Government of Khyber Pakhtunkhwa, Finance Department has issued Notification on 11-07-2019 in connection with Adhoc Relief Allowance 2019 KPK. Detail is as under:
Adhoc Relief Allowance 2019 KPK Government
This allowance will be admissible with effect from 1st July 2019 to all the Khyber Pakhtunkhwa provincial Government employees of the scales of BPS-01 to BPS-16.
The employees of BPS-17 to BPS-20 will get this allowance @ 5% of their running basic pay. They will also get this adhoc allowance wef 01-07-2019. This allowance will not be admissible to those who are getting:
Special Judicial Allowance
Scheduled Post Allowance
Technical Allowance
Prisons Allowance
Prosecution Allowance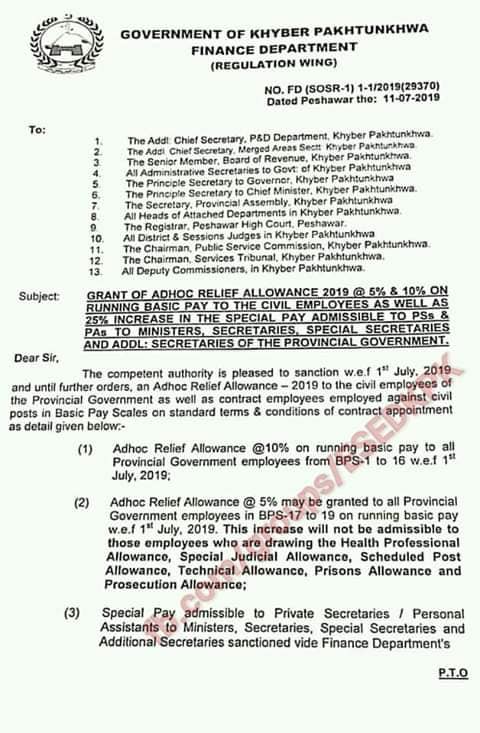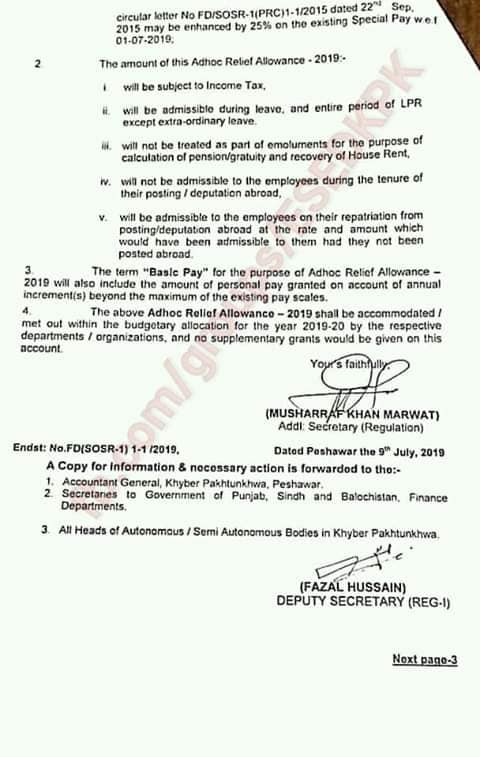 Increase in Special Pay 2019 KPK
Special Pay that is admissible to the PSs / Pas to Ministers, Special Secretariat, Secretariat and Additional Secretaries sanctioned vide Finance Department's Circular of the dated 22-09-2015 may also be enhanced by 25% on the existing Special Pay with effect from 1st July 2019.
It is further added that Notification of Adhoc Relief Allowance 2019 by Federal Govt has already issued on 05-07-2019 for all the Federal Government employees of Pakistan and this allowance also on the running basic pay (Current Basic Pay).