Last Updated on August 17, 2021 by Galaxy World
Higher Education Department has issued Notification on 12-09-2019 in connection with Selection Criteria for CTIs 2019 Jobs. As you know I have already shared the criteria before the issuance of this Notification. However I am publishing the latest Notification of HED for the information and guidance of the candidates. Summary is as under:
Selection Criteria for CTIs 2019 Jobs
Qualification
Stipend
Age Limit
Period of placement
Leave
TA / DA
Term of Contract
Transfer
Placement through fake / bogus documents
Recovery of loss
Joining period
No right of regular placement
Experience Certificate
Formation of Union or Association
Selection Schedule for CTIs
Date of Interview: 23-09-2019 to 24-09-2019 through walk in interview
Display Merit Lists: Tentative merit lists will be prepared by the selection committee least by 26-09-2019 after duly scrutinized by the Director (Colleges) concerned and will be available on the website of Higher Education Department and college notice board.
Grievance Redressal Mechanism for the candidates: A Grievances committee will be notified in each Division.
Display of Final Merit List and Issuance of placement orders: 30-09-2019
Period of Contract: 01-10-2019 to 30-04-2020 for the colleges in General.
Other Instructions Regarding CTIs Vacancies
Procedure of Calculation of Vacancies
Selection Committee
Qualification Marks Criteria
Subject Induction
Payment of Stipend
HEC Formula for Conversion of GPA into Percentage of Marks on the Scale of 4.00
HEC Formula for Conversion of GPA into Percentage of Marks on the Scale of 5.00
Download Full Notification by HED Regarding Selection Criteria and Other Instructions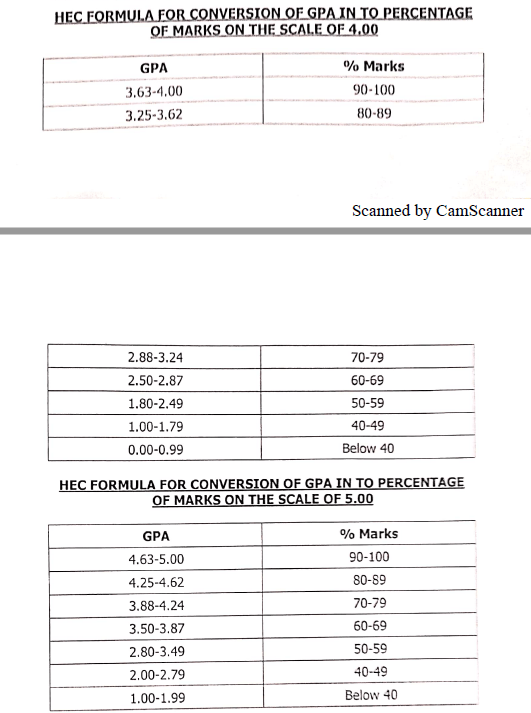 Those candidates who have not prepared the application for teaching jobs as CTIs can get the simple application in MS Word. If they want to make any amendment they can do so. The candidates is advised to visit the concerned college to check the CTIs Vacant Posts 2019 after getting the details they should prepare for the application and document and finally should make the preparation for the interview. Thanks