Office of the Deputy District Education Officer (Women) Khanewal has issued orders on 21-10-2019 in connection with Regular Appointment as Class IV, Naib Qasid, Chowkidar, Sweeper, Security Guard, School Guard and Bulavi. Detail is as under:
In compliance of the Notification No.SO (ERB) (S&GAD)S-19/2018, Govt. Of the Punjab,  Service and General Administration Department (Regulation Wing), Lahore, in the light of promulgation of the Punjab (Regularization of Service) Act 2018, in compliance of Worthy Chief Executive Officer District Education Authority, Khanewal, Directive No, 5536/Admin, Dated 29-05-2018 and consequent upon the recommendations of the security committee constituted under Punjab Regularization of Service Act 2018. The following employees appointed on contract basis and have completed four years of continuous service and hereby regularized from the date mentioned against each.
You can read further details at the copy of the orders of Regular Appointment as Class IV, Naib Qasid, Chowkidar, Sweeper, and Security Guard.  Special thanks to Rao Arif for sending the copy of the orders of regularization of the class IV Employees. The list of employees who have been regularized contains 6 employees. The office has mentioned all terms and conditions on their regularization. .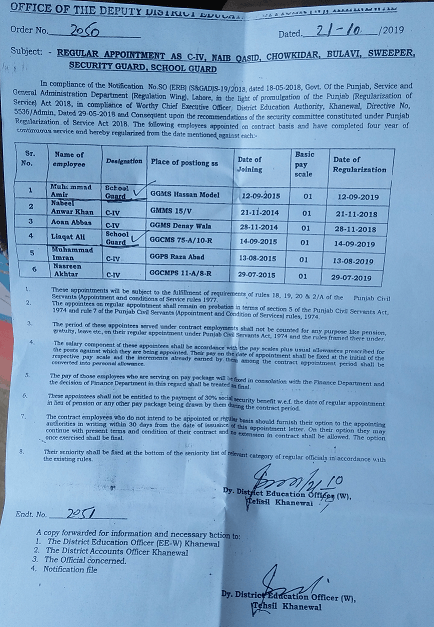 You may also like: Appointment under Rule 17-A on Regular Basis instead of Contract