Last Updated on May 21, 2023 by Galaxy World
Chief Executive Officer (DEA) Rahim Yar Khan issued a Notification on 20-05-2023 in connection with In-Service Promotion BPS-01 to BPS-08 Employees as Junior Clerk. The details are as under:
 In-Service Promotion BPS-01 to BPS-08 Employees as Junior Clerk
Chief executive officer district education authority Rahim Yar Khan issues notification regarding the promotion of Class – IV employees and Officials of BPS-01 to BPS-08. District promotion committee call meeting on 5th and 6th May 2023 to discuss the promotions for the above said, employees and officials. These officials are working on a regular basis in the school education department. District Education Authority Rahim Yar Khan Supervises the duties of the above officials. The officials are promoted on the basis of fulfillment of Promotion criteria.
Eligibility Criteria For The Promotion Of Class-IV Employees
The government of Punjab School Education Department Lahore previously issued a notification on 19th January 2018 about the promotion of Class Four employees and officials. In pursuance of that notification of the Government of Punjab, the District Education Authority announces the promotion of selected candidates. Those candidates who work on a regular basis in the school education department and are qualified for the type of test have the required qualification. They are promoted as Junior Clerk BPS- 11.
Total Promoted Class-IV Employees as JC BPS-11
Following are the promoted officials and employees who are working in the Government High Schools, the Office of  DEA, and Government Primary Schools. The government of Punjab promoted 25 Class-IV officials which are as follows:
Sr.No
Name of Post To be Promoted
No.of Officials

Promoted as Junior Clerk BPS-11

1.
Naib Qasid
07
2.
Security Guard
02
3.
Class-IV
05
4.
Chowkidaar
04
5.
Laboratory Attendant
04
6.
Computer/IT Lab In Charge
02
7.
Storekeeper
01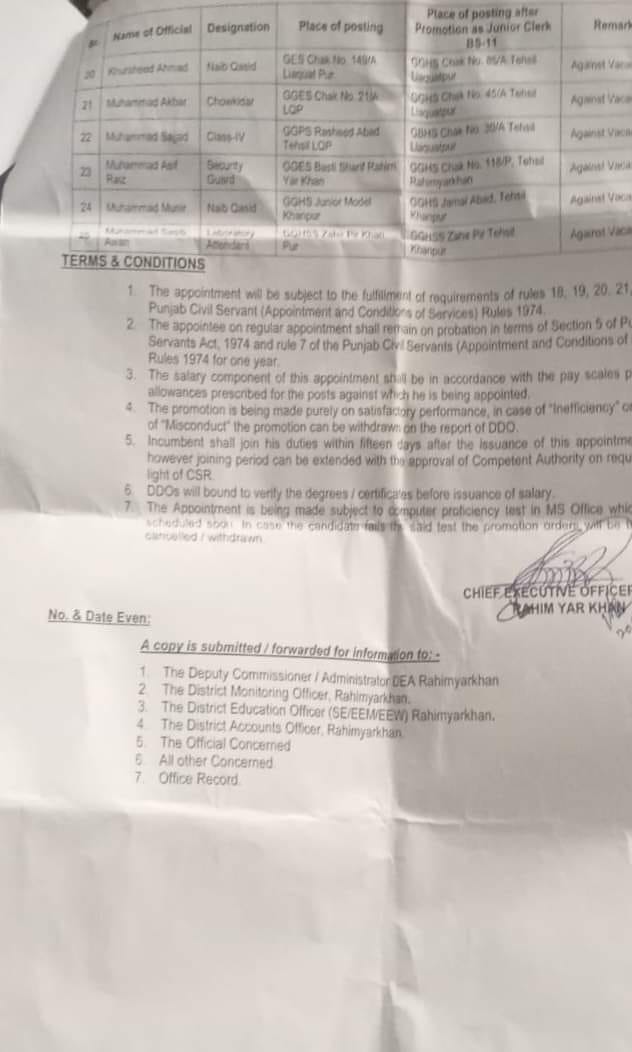 Terms and Conditions
The Appointment is on the basis of fulfillment of all the requirements with reference to the Civil Servants Act Rules,1974.
DDOs are bound to verify all the required documents in order to issue salaries.
All promoted officers will receive a salary according to the New Revised Basic Pay Scales 2022.
Promotion is granted on the basis of Computer Proficiency Tests. (No promotion will be granted on the failure of the test)
The appointee on a regular basis will remain on probation period.