PKLI&RC is working as an autonomous body through PKLI&RC Act 2019, the act passed by Provincial Assembly of Punjab. Following Vacancies in Pakistan Kidney and Liver Institute and Research Center (PKLI&RC) are lying vacant.
Detail of Vacancies in Pakistan Kidney and Liver Institute and Research Center
CLINICAL POSITION
Consultants
Urology
Nephrology
Interventional Radiology
Anesthesia
Histopathology
Chemical Pathology
Immunology
Hematology
General & Vascular Surgery
Pediatric Intensivist
The Pediatric Nephrology
Pediatric Urology
General Pediatric
Part-time Consultants
Cardiology
Neurology
Gynecology
Senior Registrars
Hepatobiliary & Liver Transplant Surgery
Nephrology
Urology
Renal Transplant Surgery
Gastroenterology/ Pediatric Gastroenterology
Histopathology
Registrars
Nephrology
Urology
Renal Transplant Surgery
Hepatobiliary Liver Transplant Surgery
Anesthesia
Critical Care Medicines
Gastroenterology
Pediatric Gastroenterology
Internal Medicines
General Medical Officers
PARAMEDICS/RECHNICIANS
Nursing
Respiratory Therapist
Dialysis Technician
Nursing Assistant
Nuclear Medicine
Radiochemist
Medical Transcriptionist
Laboratory
Manager Laboratory
Laboratory Technologists
Phlebotomists
Pharmacy
Pharmacist
Pharmacy Technician
NON-CLINICAL POSITIONS
Legal
Corporate Affairs
Manager Corporate Affairs
Marketing
Photographer (Videographer/Editor)
Supply Chain
(Procurement & MMD)
GM Procurement/ Supply Chain
Pharmacist (Warehouse)
Warehouse Manager (Pharmacy)
Information & Communication Technology
System Administrator
The System Administrator(ERP)
System Administrator(Firewall)
Support Services
Manager Administration/ Support Services
Manager Operation Theater
Assistant Manager Administration / Support Services
Administration / Support Services Supervision/ Officer/ Coordinator
Patient Care Officer
Security Officer
Cleaner/Assistant / Khadim/ Porter
Assistant Dietection
Cook/ Chief/ Baker
Chapatti Maker
Waiter/ Services Aid
Laundry Operator (Washer, Presser and Dry Cleaner)
Laundry Helper/ Transporter
Repair & Maintenance
Project Manager
Engineering Assistant (Biomedical)
Medical Gases Plant Room Operator/ Technician (Generator)
Senior HVAC Operator/ Senior Technician
HVAC Operator/ Technician
HVAC Airside Maintenance Technician
Elevator Technician
Boiler Operator
Electrical Technician
Plumbing Technician (Gutter Gully)
Mali
Further Information
Last date to apply for these jobs is 02-12-2019. The candidates coming for test and interview will not get TA / TA. Only shortlisted candidates will be called for test / interview. You can get more information of the said vacancies at the copy of the advertisement of Vacancies in Pakistan Kidney and Liver Institute and Research Center.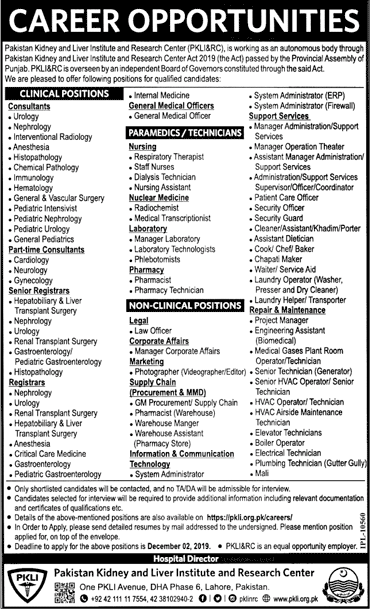 You may also like: WAPDA Jobs 2019