Last Updated on December 3, 2019 by Galaxy World
Office of the Deputy Commissioner Rajanpur has issued Notification on 29-11-2019 in connection with Local Holiday on 5th December 2019 (Thursday). The Holiday will be observed in District Rahim Yar Khan and District Rajanpur. Detail is as under:
            In exercise of the power conferred upon me  by the Additional Chief Secretary, Government of the Punjab, Services & General  Administration Department, Lahore vide Notification No.SOW-I(S &GAD) 1-4/2008(P-II) dated 07-03-2019, I Muhammad Afzal Nasir Khan, Deputy  Commissioner, Rajanpur do hereby declare 05th December, 2019 (Thursday) as Local Holiday on the occasion of Urs of Hazrat Khawaja Ghulam Fareed (R.A) at Kot Mithan in the revenue limits of Rajanpur District. However, it will not apply to staff engaged in any examination duty emergent duty.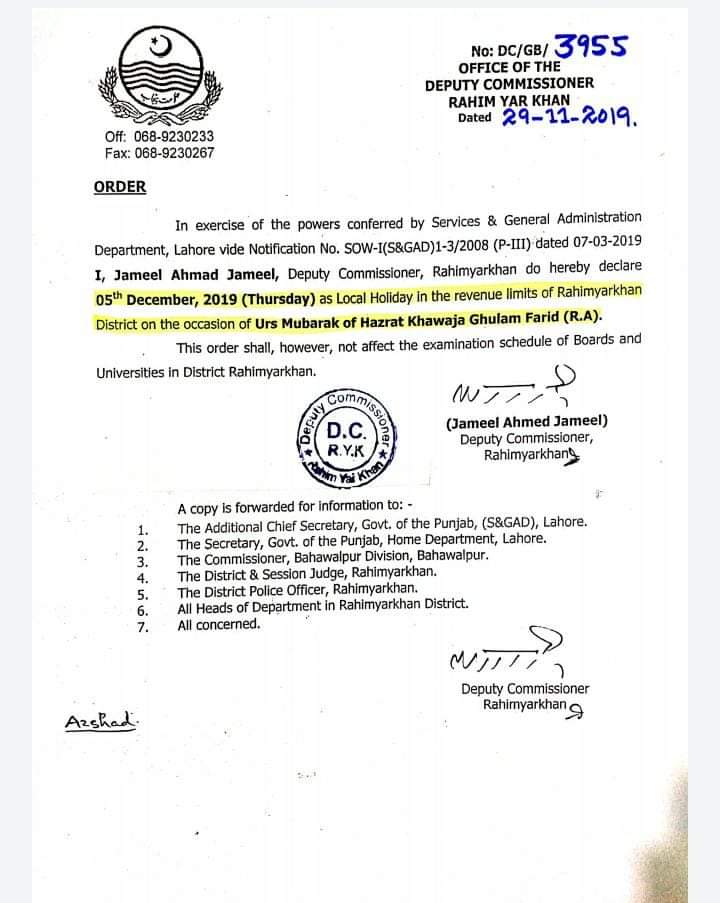 Special thanks to Mr. Zahid Khan for sending the copy of the Notification of Local Holiday on 5th December 2019 in Rahim Yar Khan District and Rajanpur.