Last Updated on December 15, 2019 by Galaxy World
National University of Technology (NUTECH) has initiated a revolutionary step with the cooperation with the German Industry.  The German Companies in this regard will provide Free Technical Training in Germany and hence Job Opportunities. Willing candidates can apply in any category as given below:
Details Free Technical Training in Germany
Hairdresser
Beautician
Steel fixer
Building and Foot out Joiner
Brick Layer
Stone Fixer
Tile Fixer
Painter
Blacksmith
Window maker
Varnisher
Heavy Machinery Operator
CNC Operator
Sanitary work
Air-conditioning and Hinting Technician
Welder
Plumber
Auto Mechanic
Auto Painter
The Auto Denter
Auto Electrician
Old Homes Nursing Care
Information Technology Technician
Qualification:
Minimum FA /F.Sc / 12 years education certificate from any Board of Education (Minimum 50% marks)
Age Limit: 18 years to 30 years
German Language will be preferred
Registration: 31st December 2019 is the last date to register for this programme
More Information:
You can get more information regarding courses, training period and others at the copy of the advertisement. For the convenience of the applicants application form has also been attached. Punjab Government has also started E-Rozgar Admission Programme for online workings. It is more added that Chief Minister Hunarmand Nojwan is also a very good program launched for the youth.
Application form Germany Industry Support Program
Application for the Germany Industry Support Programme is attached with the copy of the advertisement. You should fill the same form properly and submit to the concerned quarter alongwith other documents.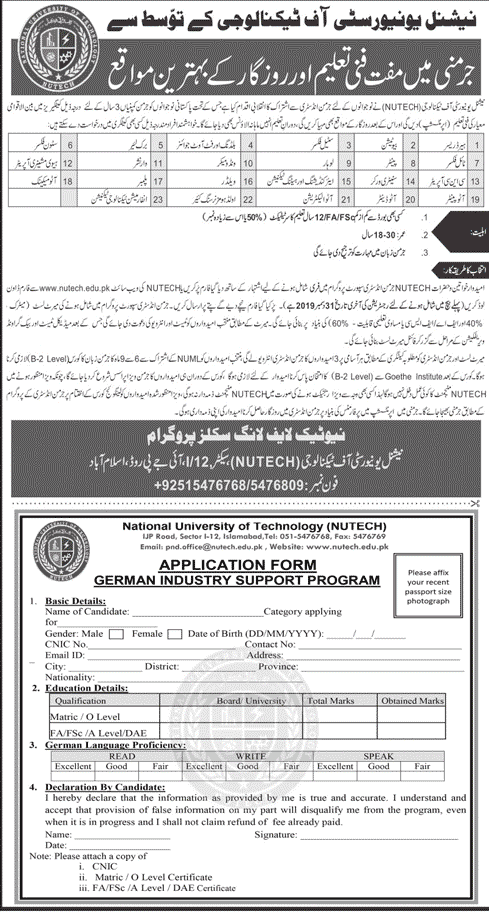 You may also Like: Jobs in NAVTTC