Last Updated on May 5, 2020 by Galaxy World
Pakistan Railways Headquarters Office Lahore has issued a letter on 05-05-2020 in connection with Tentative Start of Train Service with SOPs wef 10th May 2020. Thus there are many chances of Commencement Passenger Train Operation wef 10-05-2020. This letter the HQ has sent to all Divisional Superintendents including DS / Workshops Pakistan Railways. I hope the trains again restart again and the final schedule of trains they will issue soon. The details of the same are as under:
Tentative Start of Train Service wef 10-05-2020
Pakistan Railways is considering the restoration of passenger traffic operation tentatively w.e.f. 10th of the instant subject to the approval of the competent authority. To ensure the efficient, safe train operation; the proposed SOPs (attached) need to be implemented in their true letter and spirit. For this purpose availability of required stock and other relevant resources of operational requirements and passengers, amenities need to be ensured safe, complete, and available in all respect.
Full-dress Rehearsal for Commencement Passenger Train Operation
It is further directed that a full-dress rehearsal in this context shall also be undertaken on 07-05-2020 to identify the effectiveness of the operational arrangements and identify the weaknesses if any, so as to enable all concerned to ensure complete rectification of the weaknesses and deficiencies prior to commencing all the passenger traffic operation as per schedule.
Kindly ensure all the arrangements complete as detailed above and submit a certification in this context by the 8th of May 2020 positively.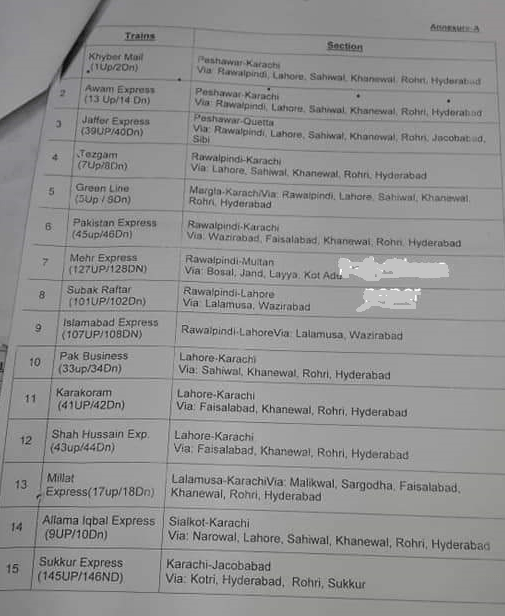 Name of Trains to be Reschedule
Khyber Mail (1 Up /2 Dn)
Awami Express (13 Up/14 Dn)
Jaffer Express (39 Up/40 Dn)
Tezgam (7 Up/8 Dn)
Green Line (5 Up/6 Dn)
Pakistan Express (45 Up/46 Dn)
Mehr Express (127 Up/128 Dn)
Subak Raftar (101 Up/ 102 Dn)
Islamabad Express (107Up / 108 Dn)
Pak Business (33up / 34 Dn)
Karakokram (41up/42 Dn)
Shah Hussain Exp. (43 Up/44 Dn)
Millat (17 Up/18 Dn)
Allama Iqbal Express (9Up/100Dn)
Sukkur Express (145 Up/ 146 Dn)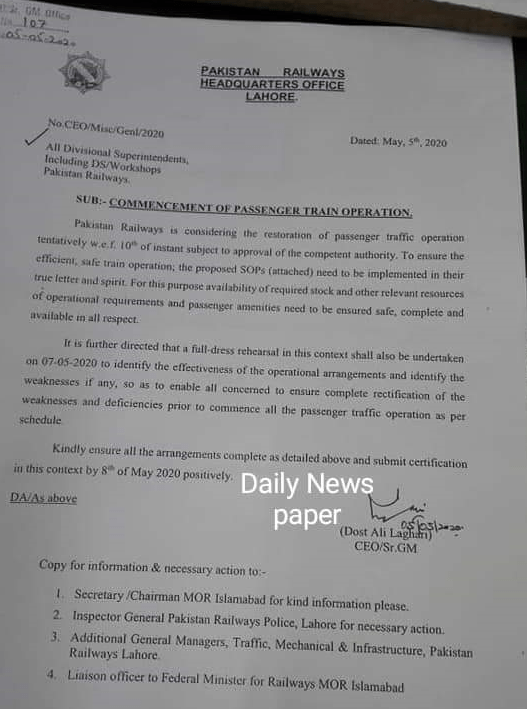 It is added here that Notification of Suspension of Trains due to Corona Virus, they Railways already issued. Now they want to start again the railway operation. Special thanks to Mr. Muhammad Bux Saleem Khaskheli for sending a copy of the Notification of Tentative Start of Train Service.