Last Updated on May 8, 2020 by Galaxy World
Azad Government State of Jammu & Kashmir Secretariat Higher Education has issued Notification on 07-05-2020 in connection with Policy Notification Promotion of Students Annual Board Exams 2020 AJK.
Policy Notification Promotion of Students Annual Board Exams 2020 AJK
Due to the COVID-19 spread, the annual exams of the Board of Intermediate & Secondary Education Mirpur have been canceled. The Higher Education secretariat has issued a policy letter regarding the promotion of the 9th, 10th, 1st year, and 2nd-year students.  The points of this policy are as under:
All the students of class 9th and FA/F.Sc (Part-I) the board promotes to next class this year without any exam. The Board will give next year the exams of class 10th and Intermediate (Part-II). On the basis of marks obtained in the 2nd year and 10th class, the students will get equal marks in the 9th class and 1st Means 9th and 10th class marks will be equal. In the same way, 1st year and 2nd-year marks will also be equal.
The students who had to take exams of class 10th and 2nd year this year, they will be given the equal marks as they already in 9th and 1st-year exams last year.
The board will give practical exam marks as per the ratio of their marks in the theory exams.
All those students of class 9th and first-year who failed in some subjects or they want to improve their marks, the board will manage for them a special/supplementary exam. The announcement of these exams, the board will do keeping in view the situation.
Note this policy issued by Higher Education Secretariat AJ&K.  The Board will implement this policy according to all Pakistan Board policies. SO wait for the Notification issued by the BISE Mirpur AJ&K.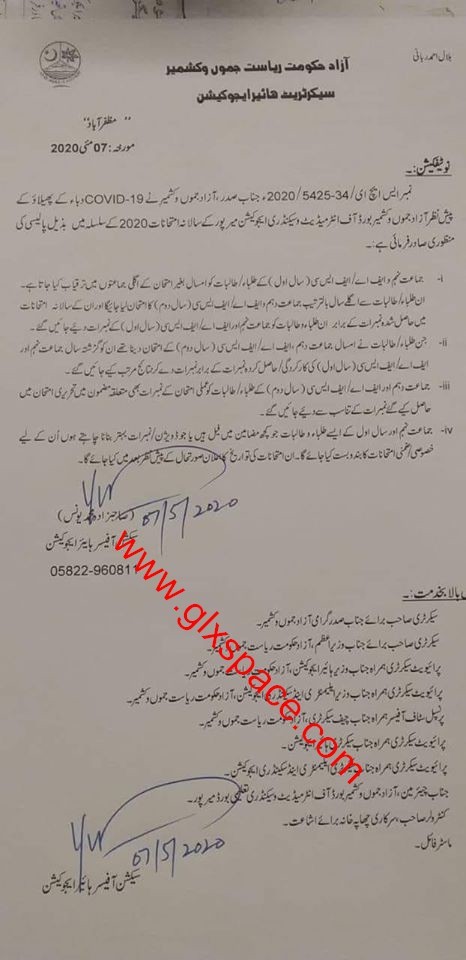 You may also like: Question Arizen After Cancellation of Board Exam Overall Pakistan