According to the latest Updates of Promotion of Students 2020 the game for 9th Class Students Not Yet Ended as updated by Federal Board of Intermediate & Secondary Education Islamabad. FBISE updated on 8th May 2020 about the tweet of the Federal Education Minister. The details are as under:
Latest Updates of Promotion of Students 2020 for Board Classes
Tweets of Federal Minister of Education & Professional Training, Mr. Shafqat Mahmood, about the cancellation of SSC & HSSC Annual Exams 2020:
Class 9 is no issue. These students can take a composite exam of class 10.
Rest assured that we will do everything to facilitate students. Even now cancellation of the exam they have taken reluctantly in the larger interest of the safety of students.
A number of clarifications have been sought after Board exam cancellation by students who were giving composite class 12 exam or hoped to do better in 12 compared to 11 or reappear, and private students or those having supplementary, etc. We will answer all queries Monday.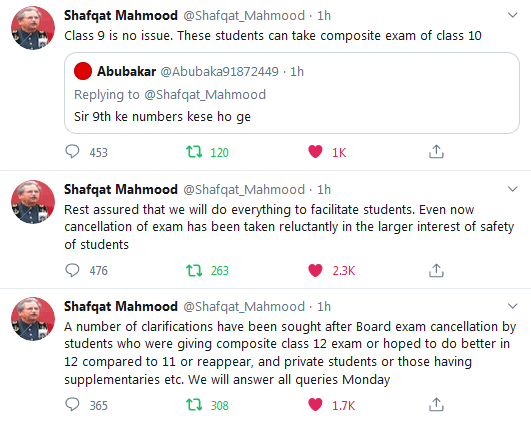 At this moment nothing is final. The boards will soon prepare a complete detailed formula for the students for their promotion. I hope they will include all the issues that the students can face due to the cancellation of exams. They may also include the policy Notification of promotion of students Annual Board Exams 2020 AJ&K Higher Education secretariat. But the students, you have to wait for the final decision.