The advertisement of PPSC Jobs June 2020 in Anti-Corruption Establishment and many other departments of Punjab has been issued by Punjab Public Service Commission.  The advertisement No. 13/2020 contains vacancies in the following departments:
Lahore Development Authority, Lahore (LDA)
Specialized Health Care& Medical Education Department
Labour & Human Resource Department Punjab Employees Social Security Institution
Anti-corruption Establishment, Punjab
Summary PPSC Jobs June 2020
The summary of the PPSC Jobs June 2020 in different departments has been published including Sr. Name, name of Post, Basic Pay Scale, and a total number of posts. You can read other details as required qualification, age limit, experience domicile, and quota at the copy of the ad. The closing date for these job vacancies through PPSC 2020 is 22-06-2020. It is added here that teachers vacancies in FG Schools, the FPSC has also announced with same closing date.
Lahore Development Authority, Lahore
| | | | |
| --- | --- | --- | --- |
| Sr. No | Name of Post | BPS | No. of Posts |
| 1. | Assistant Director | BPS-17 | 08 posts |
Specialized Health Care& Medical Education Department
| | | | |
| --- | --- | --- | --- |
| Sr. No | Name of Post | BPS | No. of Posts |
| 1 | Senior Registrar Dermatology | BPS-18 | 02 Posts |
| 2. | Senior Registrar Pediatric Orthopedic Surgery | BPS-18 | 04 Posts |
Primary & Secondary Healthcare Department
| | | | |
| --- | --- | --- | --- |
| Sr. No | Name of Post | BPS | No. of Posts |
| 1 | Consultant Anesthetist | BPS-18 | 110 Posts |
Labour & Human Resource Department Punjab Employees Social Security Institution
| | | | |
| --- | --- | --- | --- |
| Sr. No | Name of Post | BPS | No. of Posts |
| 1. | Audit officer | BPS-17 | 11 Posts |
| 2. | Accounts officer | BPS-17 | 12 Posts |
Vacancies in Anti-Corruption Establishment, Punjab
| | | | |
| --- | --- | --- | --- |
| Sr. No | Name of Post | BPS | No. of Posts |
| 1 | Junior Clerk | BPS-11 | 34 Posts |
| 2. | Assistant Director | BPS-17 | 02 Posts |
| 3. | Deputy Director | BPS-18 | 01 Post |
| 4. | Account Officer | BPS-17 | 01 Post |
| 5. | Assistant | BPS-16 | 07 Posts |
| 6 | Inspector | BPS-16 | 08 Posts |
| 7. | Stenographer | BPS-15 | 48 Posts |
| 8 | Assistant Director | BPS-17 | 01 Post |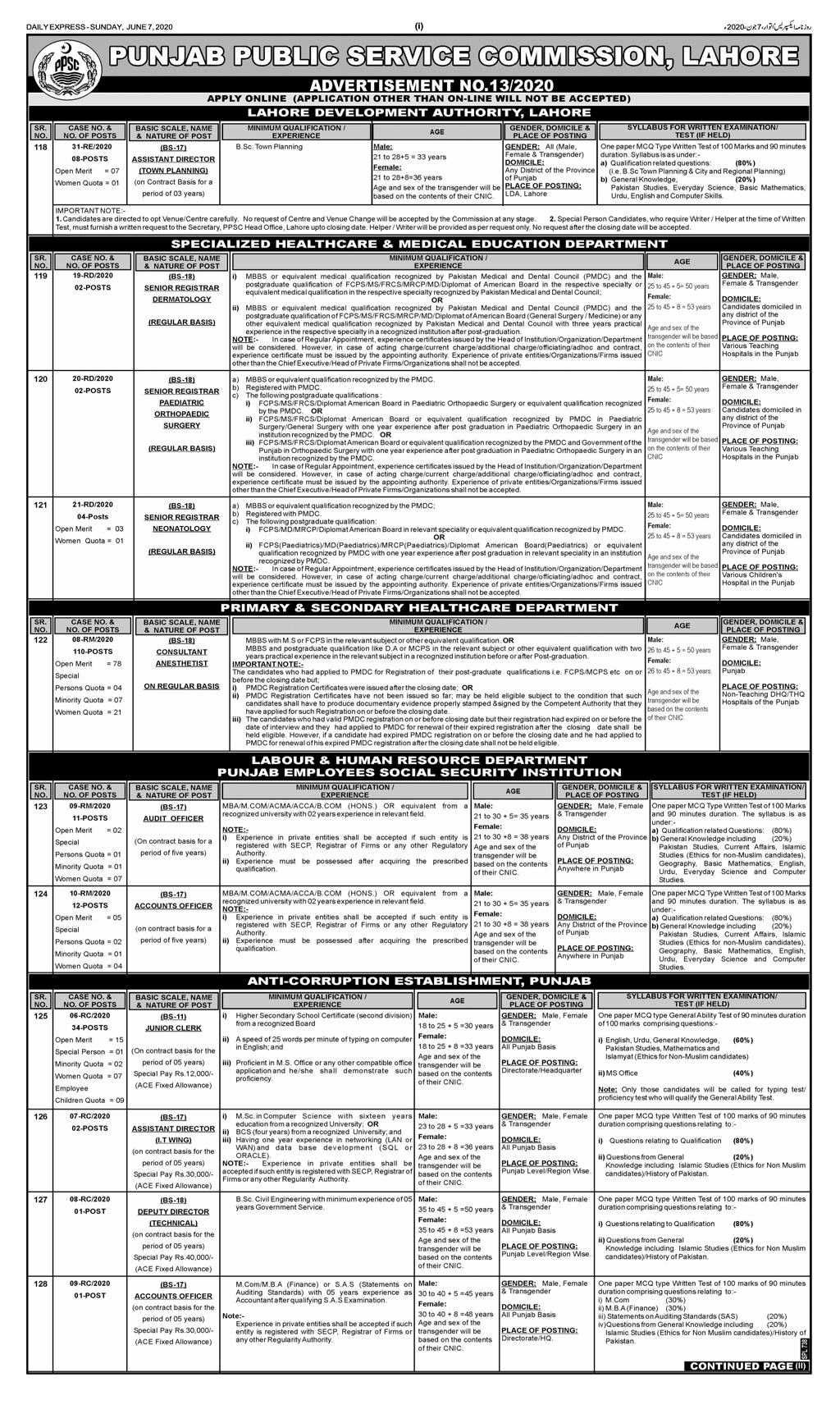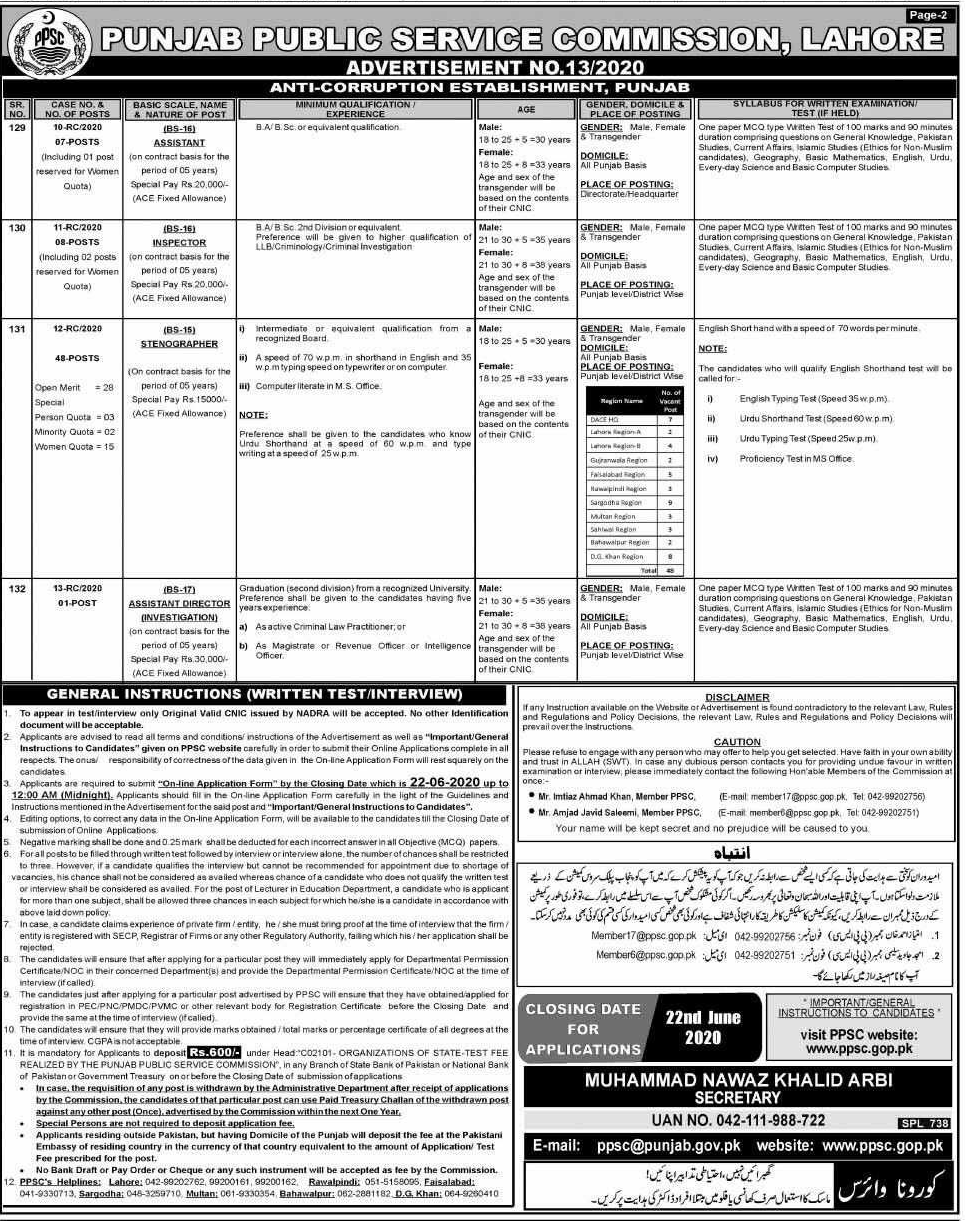 You may also like: Latest News Updates Salary Increase for Employees in Budget 2020-21