Last Updated on October 20, 2020 by Galaxy World
ZU  (let's Go Peshawar) is an international standard bus rapid transit system for the city of Peshawar. Experience of traveling on ZU Bus has unique facilities for the only metropolitan city of the province of Khyber Pakhtunkhwa.
Bus Rapid Transit (BRT) Peshawar (ZU)
You can read the full details regarding the following:
How to Pay Bus Fare?
Fare Rates
How to Get Ticket?
How to Get ZU Card?
What is ZU?
Schedule of Buses
How to Start Journey?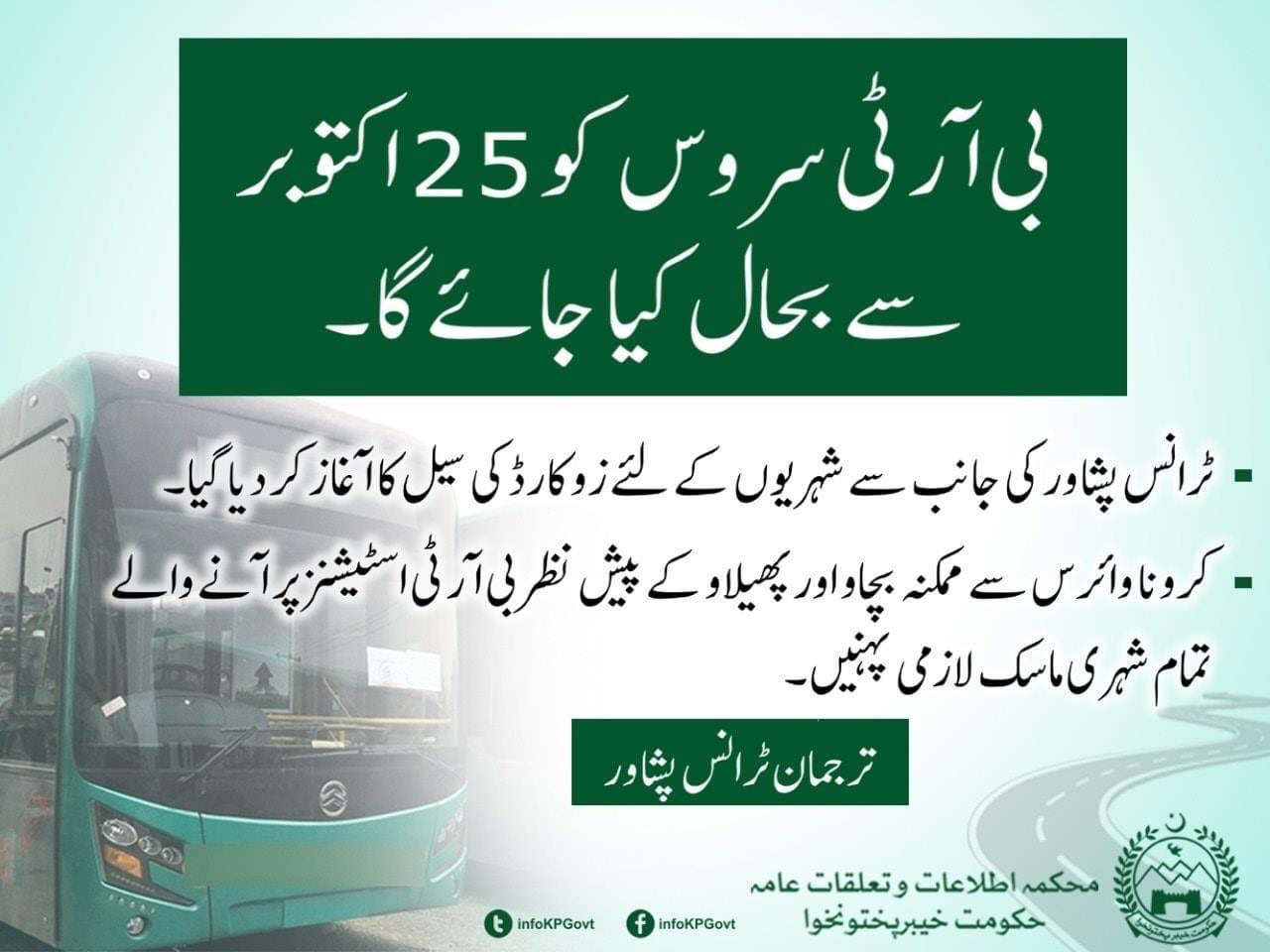 The Government of Khyber Pakhtunkhwa stopped the BRT Bus Service in Peshawar due to some technical issues. Now once again Zu card sale, the company has started. The travelers should follow the coronavirus SPSs while traveling. The company once again launching the service with effect from 25th Oct 2020. So try again.
How to Pay BRT Bus Fare?
ZU Card
ZU Mobile App
One Way Journey Ticket (Only available at BRT Stations)
How to Get ZU Card?
You can get ZU Card from Ticket Office or Ticket Vending Machine
Get Free ZU Card on Top Up of Rs. 100/-
Initially on the basis of first come first get, 100,000 cards will be distributed free of cost
One person can get only one free ZU Card
Generally, you can get a ZU Card at the cost of Rs. 150/- from nearest ZU Station or Ticket Vending Machine
How to Buy BRT Ticket?
You can get a one-way ticket from the ticket office or ticket vending machine.
Fare Rates of ZU Bus Service
| | | |
| --- | --- | --- |
| Sr. No | Distance (Kilometers) | Required Fare (Rupees) |
| 1 | Upto 5 KM | 10 Rupee |
| 2 | 5.1 KM to 10 KM | 15 Rupees |
| 3 | 10.1 KM to 15 KM | 20 Rupees |
| 4 | 15.1 KM to 20 KM | 25 Rupees |
| 5 | 20.1 KM to 25 KM | 30 Rupees |
| 6 | 25.1 KM to 30 KM | 35 Rupees |
| 7 | 30.1 KM to 35 KM | 40 Rupees |
| 8 | 35.1 KM to 40 KM | 45 Rupees |
| 9 | 40.1 KM or more | 50 Rupees |
Note: Children having a height of 90 Centimeters can travel free of cost.
Procedure to Start Journey
You must have a minimum of Rs. 50/- Balance in ZU Card before start traveling
Use travel guidance or map for the bus roots and stations etc
You must touch card at Fare Media before and after entering into the bus
What is ZU?
220 Air Conditioned Buses
30 Modern Bus Stations
Environment-Friendly Hybrid Buses
Chainless 360 Bicycles
32 Most Modern Bicycle Stations
Special Corridor of 27 Kilometer Long BRT
A network of 5 Roots adjacent to BRT
Schedule of Buses
Monday to Sunday
6 am to 10 pm
Inauguration
Mr. Imran Khan Honourable Prime Minister Islamic Republic of Pakistan & Mr. Mahmood Khan Honourable Chief Minister Khyber-Pakhtunkwa will inaugurate BRT on 13th August 2020.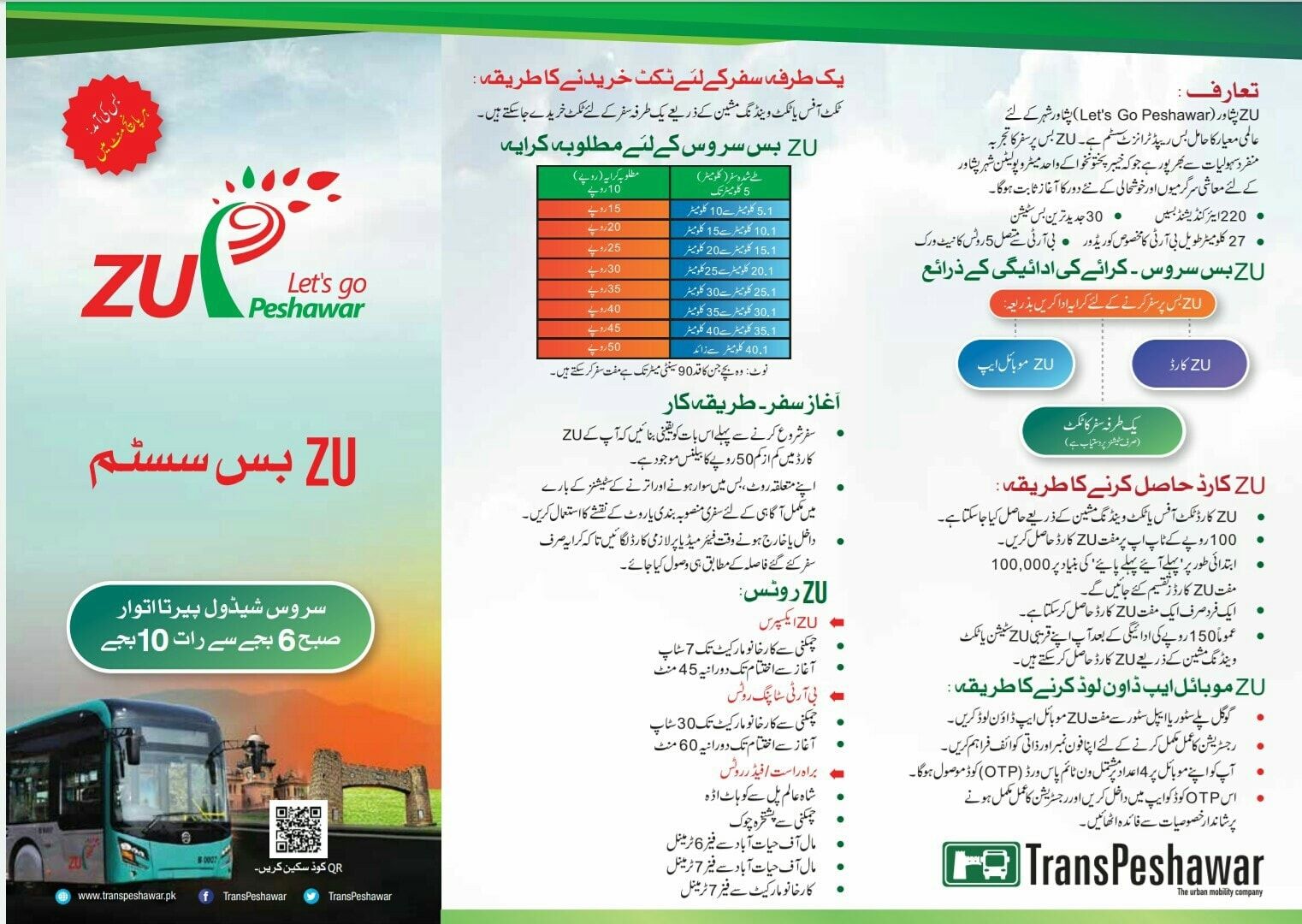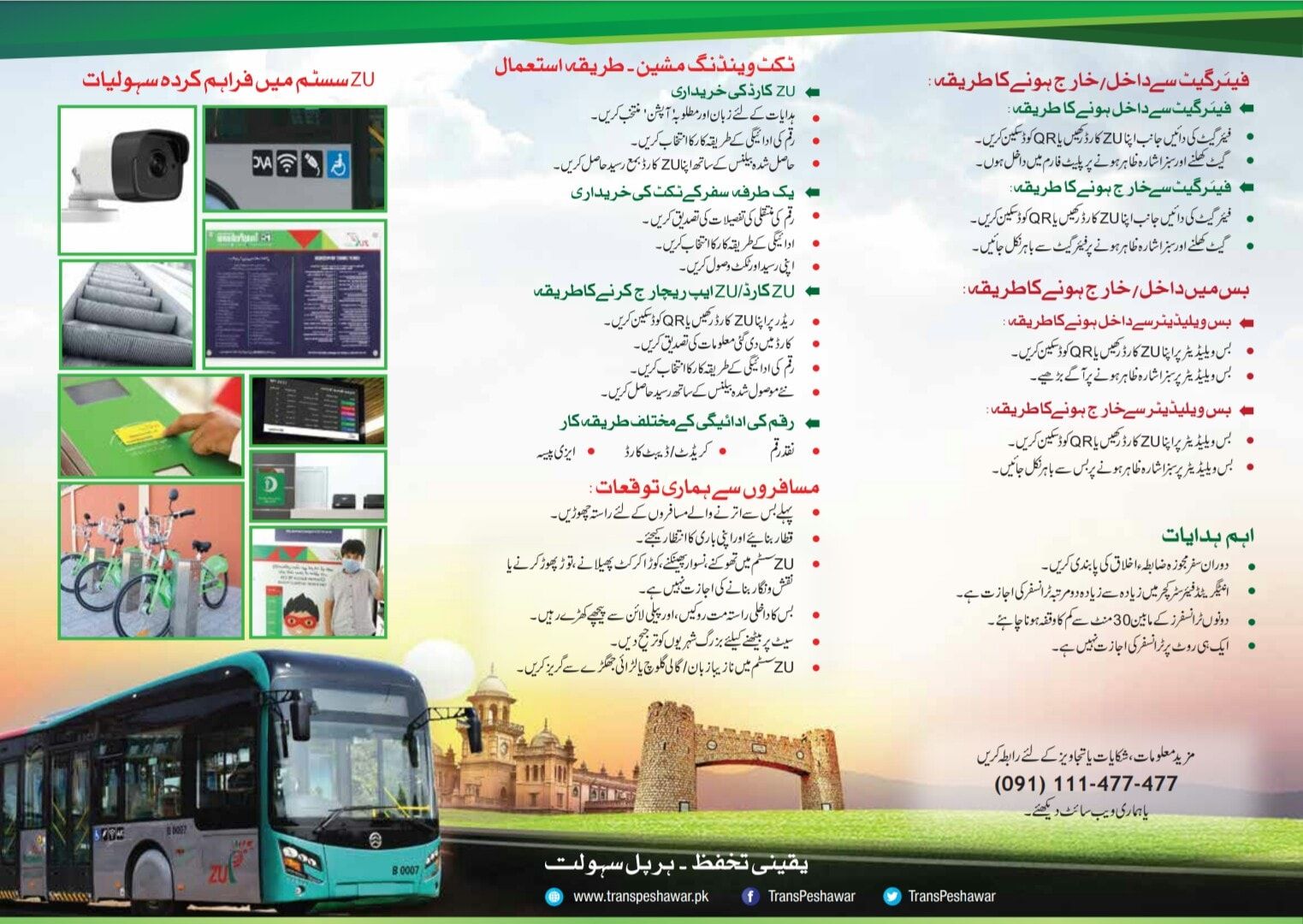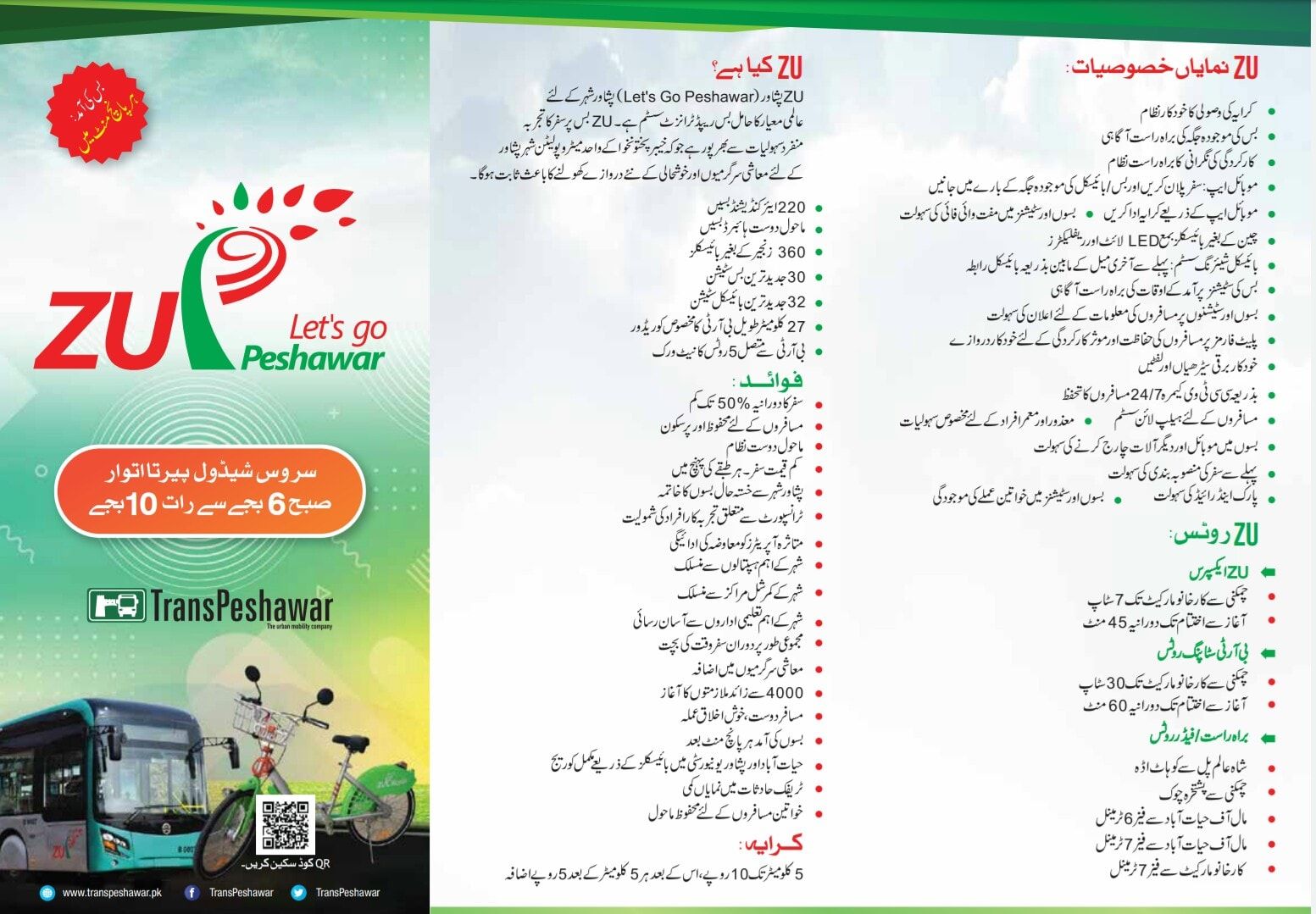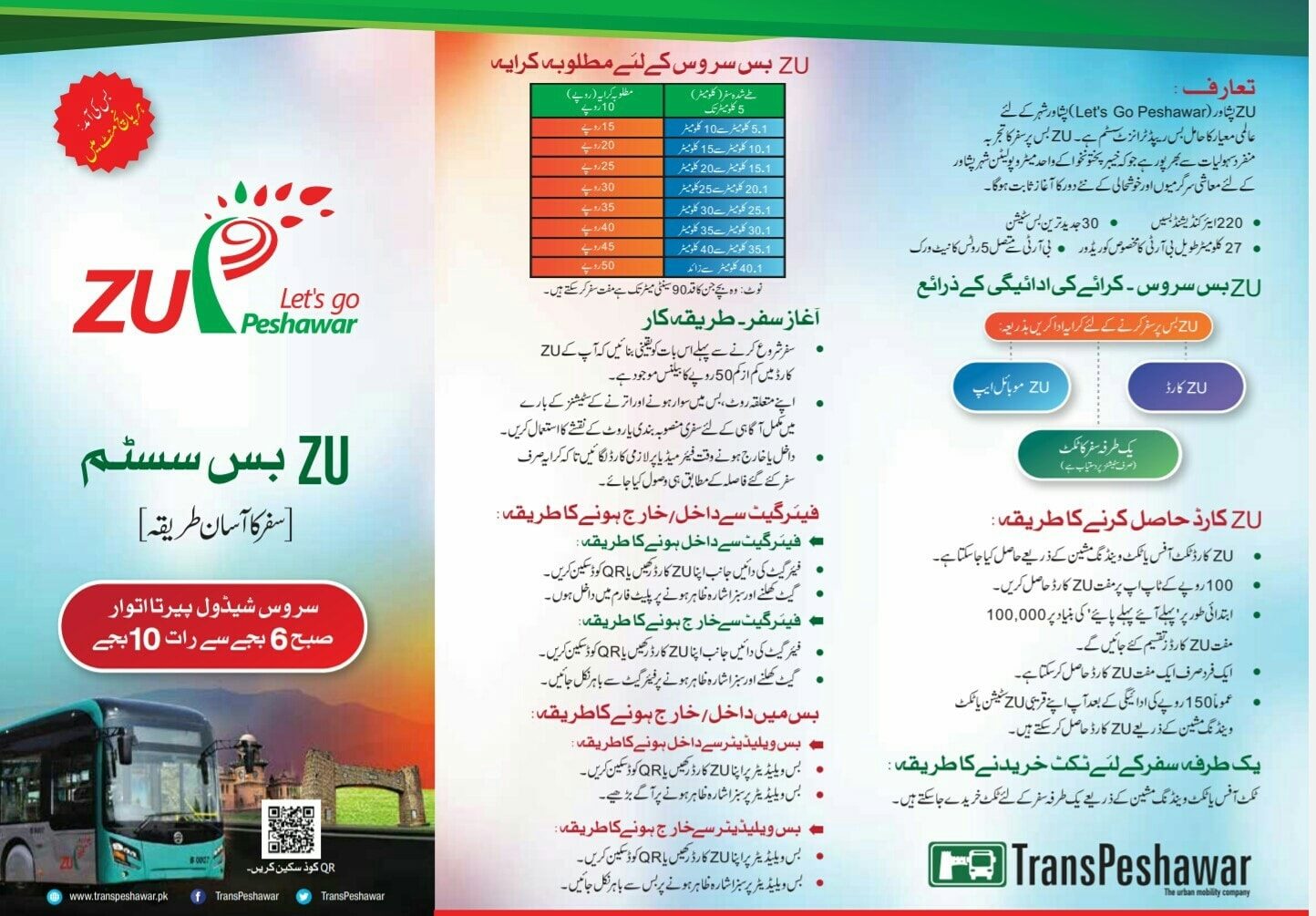 You May Also Like: Date of Announcement of FBISE SSC Annual Result 2020