Last Updated on August 10, 2021 by Galaxy World
Board of Intermediate & Secondary Education Hyderabad Sindh has issued circular on 24-07-2020 in connection with Updates of Pacca Certificates SSC-II Annual Examination 2018.
Updates Pacca Certificates SSC-II Annual Examination 2018
It is hereby notified for the information of all education institutions concerned that the Pacca Certificate of SSC (Part-II) annual examination 2018 is expected to be received soon from the National Security Printing Corporations, Karachi. On receipt of the Pacca Certificates from the above Printing Corporation, the computerized process will be undertaken soon and the Pacca Certificate will be sent to the respective education institutions by the last week of August 2020. The delay has happened due to the COVID-19 pandemic in the country.
It is further notified that the  Marks Certificates had already been issued by the Board which contains complete information including date of birth and will be acceptable by the respective higher education institutions for the purpose of submission of the admission Forms till the SSC (part-II) Annual Examination 2018 Pacca Certificate are issued by the Board.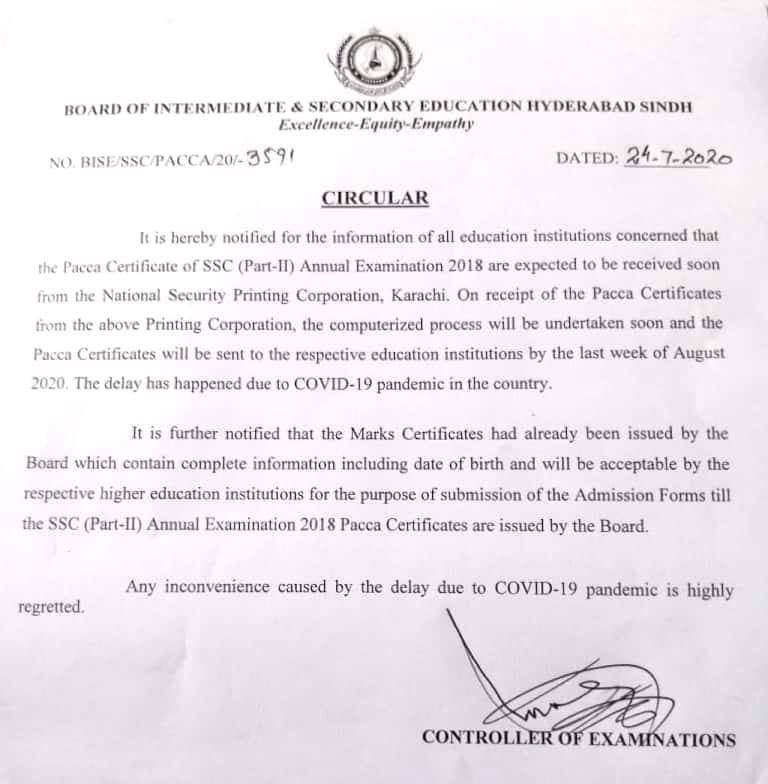 Any inconvenience caused by the delay due to the COVID-19 pandemic is highly regretted. Special thanks to Mr. Muhammad Saleem for sending a copy of the letter of the Updates of BISE Hyderabad Matric Certificates.
You May Also Like: Notification of Disaffiliation of BA/BSc Programs KPK