Last Updated on August 10, 2021 by Galaxy World
Government of Pakistan, Cabinet Secretariat Establishment Division has issued Notification on 30-07-2020 in connection with Revert Back Office Timings 09 am to 5 pm After Eid-ul-Azha. In the same way, Allama Iqbal Open University has also issued Notification on the same day regarding normal office timings after Eid-ul-Azha Holidays.
Office Timings 09 to 5 pm after Eid-ul-Azha (Federal)
No. 6/1/2007-D-2: All offices in Federal Government will revert back to normal office timing i.e. from 09:00 AM to 05:00 PM, immediately after Eid holidays, i.e. from 03.08.2020.
Copy forwarded to:-
President's Secretariat (Personal ) DS (Admn) Aiwan-e-Sadr, Islamabad.
President's Secretariat (Public) DS (Admn) Aiwan-e-Sadr, Islamabad.
Prime Minister's Secretariat (Public), DS (Admn), Islamabad.
Prime Minister's Secretariat (Internal), DS (Admn), Islamabad.
The Chief Election Commissioner of Pakistan, Islamabad.
Auditor General of Pakistan, Islamabad
The AGPR, Islamabad
All Federal Ministries / Division.
The Registrar, Supreme Court of Pakistan, Islamabad
Secretary, Senate Secretariat, Islamabad
The Secretary, National Assembly Secretariat, Islamabad
Secretary, FPSC, Islamabad.
Chief Secretaries, Government of the Punjab/Lahore, Sindh/Karachi, KPK/Peshawar, Gilgit-Baltistan/Gilgit and AJK/Muzafarabad.
The Director General, ISL, Islamabad.
The Director General , IB m Islamabad.
Chief Commissioner, ICT (ADMN), Islamabad.
The Manager, State Bank Pakistan, Islamabad.
Secretary, Wafaqi Mohtasib, Secretariat, Islamabad.
Principal information office PID, Islamabad.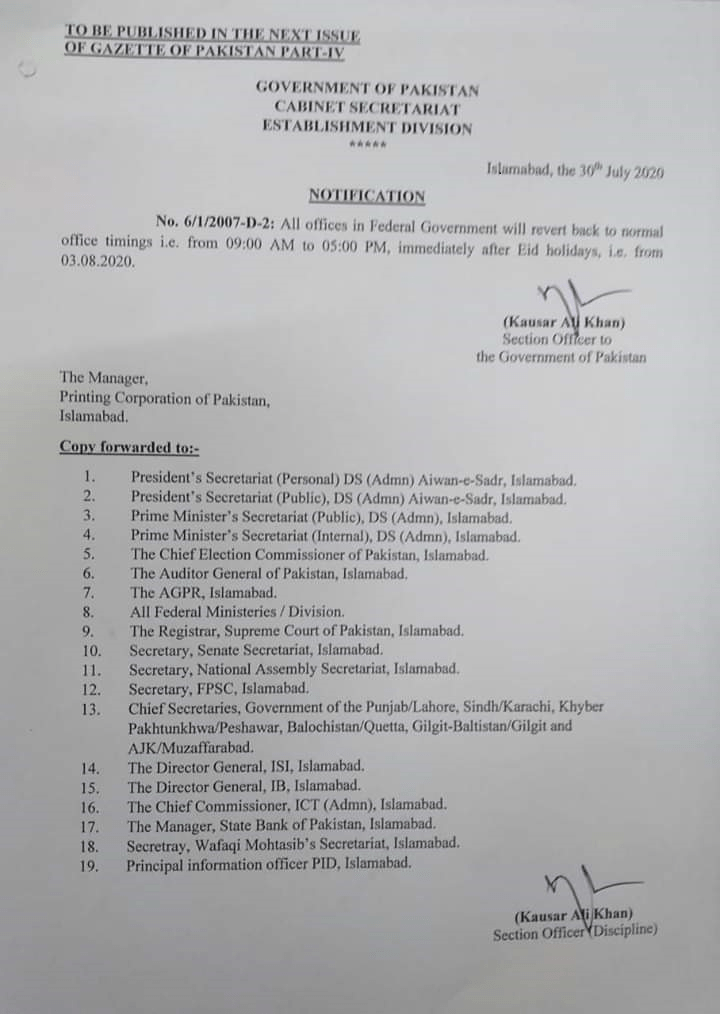 Revised Office Timings AIOU Islamabad
In  pursuance of the Cabinet Secretariat, Establishment Division's Office Memorandum issued vide No.6/2/2007-D-2  dated 30.07.2020, the Competent Authority has been pleased to approve that the following office timings to be observed after the Eid-ul-Adha holidays i.e. 03.08.2020:
| | | |
| --- | --- | --- |
| Sr. No | Days | Office Timings |
| 1 | Monday to Friday | 09:00 am to 05:00 pm (09000 HRS to 1700 HRS |
Special thanks to the following who sent a copy of the timings for the Government offices after Eid-ul-Azha 2020.
Zahid Khan
Junaid Sattar Butt
Muhammad Bux Saleem Khaskheli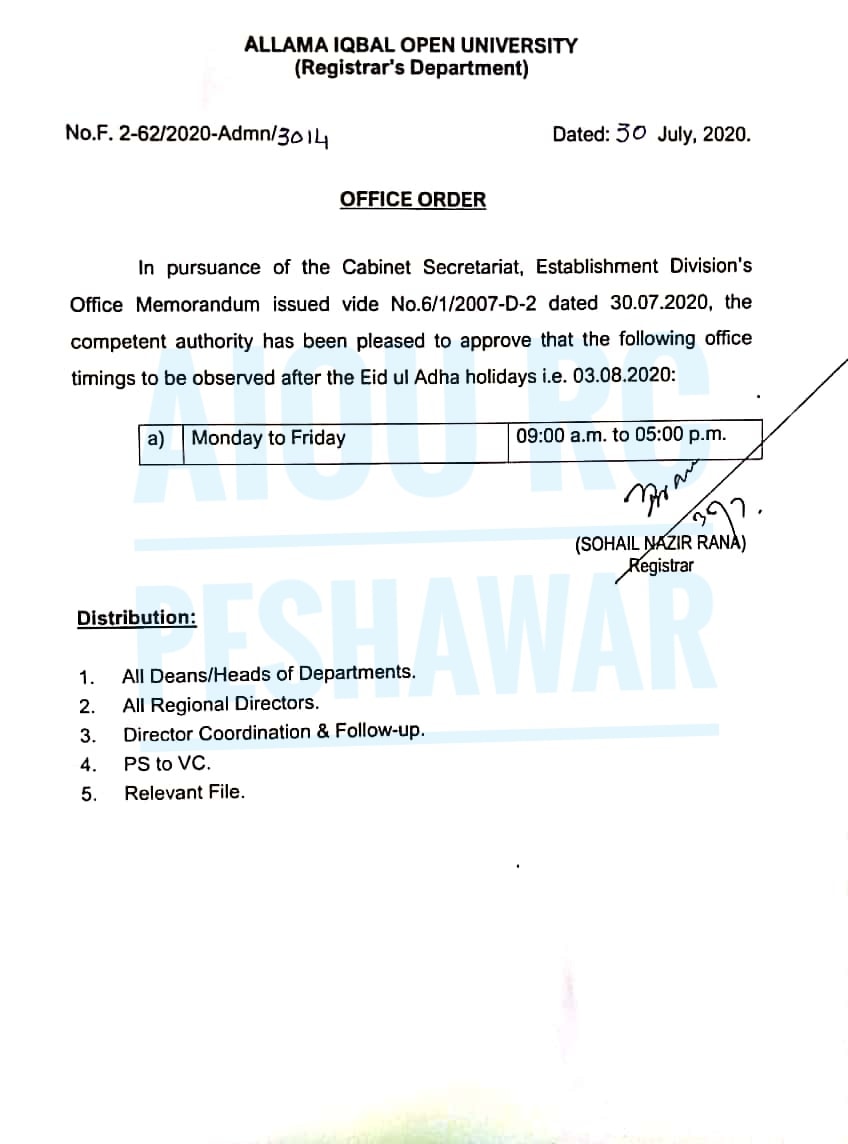 The Notification of other offices and Governments are expected to issue very soon.
You may also like: PPSC Health Department Jobs 2020