Last Updated on April 20, 2023 by Galaxy World
Government of Pakistan, Cabinet Secretariat, Establishment Division issued a Notification on 20-04-2023 in connection with Amended / Revised Office Timings After Eid-ul-Fitr 2023 Federal.  These new office timings are for five working days (Monday to Friday). The Federal Government offices will observe these latest office working hours timings during the summer season 2023-24.
The details are as under:
New Amended / Revised Office Timings after Eid-ul-Fitr 2023 Federal
The Federal Government of Pakistan issues the schedule for the summer season. The schedule will apply to all Federal government offices. Here are the details.
As the summer season all over Pakistan begins, Federal Government shares the schedule for Offices in the notification dated 20th April 2023. Federal Government decided the said schedule on dated 22-02-2023. The longer daytime is longer in summer seasons, as compared to winter. The offices which open late according to the winter schedule, now have to be opened earlier as compared to previous timings.
Federal Government Offices Working Schedule for Summer 2023
Here is the schedule for the summer season.
| | |
| --- | --- |
| Days | Timings |
| Monday to Friday | 07:30 PM to 03:30 PM |
| Prayer/Lunch Break | 01:00 PM  01:30 PM |
The above-mentioned schedule shall be observed in all Federal government offices from Monday to Friday. Saturday and Sunday will be observed as off days. The offices under Federal Government have to follow the above-mentioned schedule in the summer season of 2023. In any case, if the government revises the schedule, it will be notified.
You may also like: Allocation New Head of Account Govt Share / Universal Insurance Fund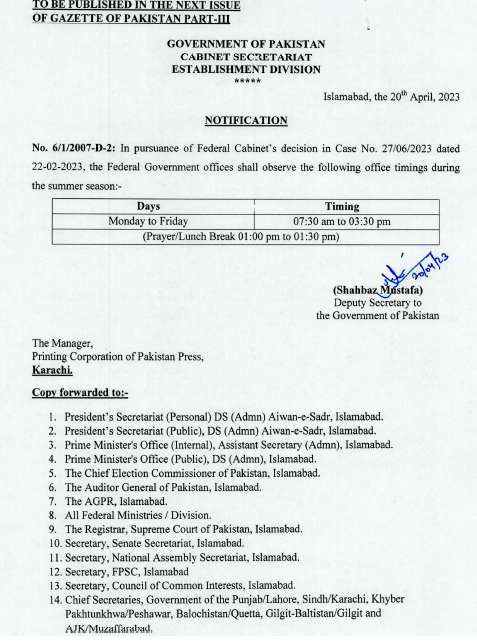 Before the start of Ramzan ul Mubarak in Pakistan Federal Government changed the Office Timings during the Holy Month of Ramzan 2023. Now Federal government again changed these office hours for the summer season. Before the Ramzan ul Mubarak times, there were office timings in Federal Offices from 9:00 am to 4:00 pm.