The government of Khyber Pakhtunkhwa, Elementary and Secondary Education Department has issued a Notification on 10-09-2020 in connection with the Opening of Educational Institutions KPK.
Opening of Educational Institutions KPK wef 15-09-2020
In continuation of this Department's notification of even number dated 04-8-2020, the Competent Authority has been pleased to allow commencement of educational activities in Elementary and Secondary Educational Institutions. This commencement of educational activities is only for grades 9 and above with effect from 15th September 2020. The schools/colleges will have to follow the conditions / SOPs strictly.
The restrictions placed on the maximum number of staff allowed in educational institutions vide Notification of even number and dated 04-08-2020 is also hereby removed.
So as per this Notification the 9th class and above will go to schools with effect from 15-09-2020. For the remaining classes of primary and middle the education department will issue separate Notification. From class one to 8th, it seems will be the same schedule as Notified by the Federal Govt. That is from 22nd Sep 2020 Middle classes and 31st Sep for Primary classes.  So keep tuned with me for the announcement of dates of primary and middle classes by the KP Government Education Department.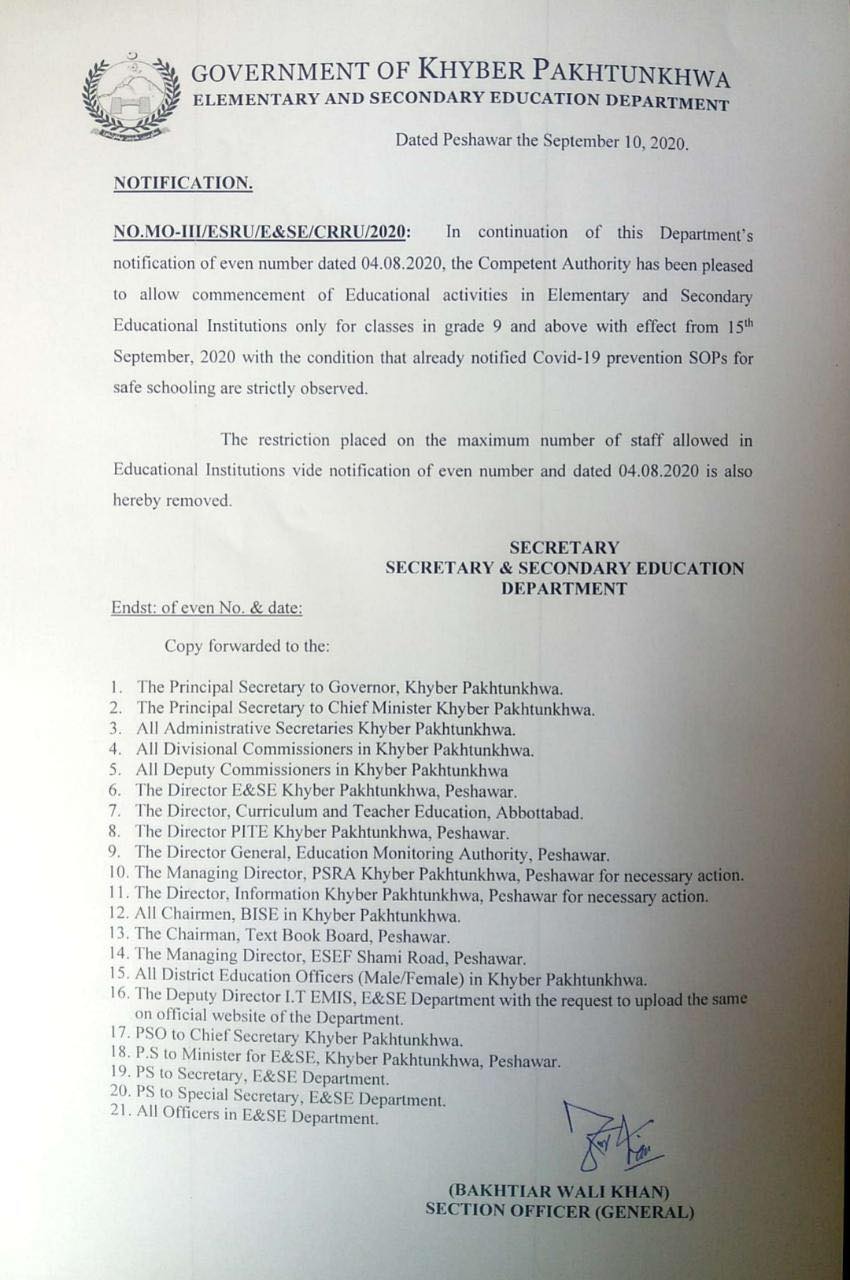 The Department has sent these orders to all concerned for their compliance. The schools/colleges now should implement the SOPs properly to save the students and teachers. The parents do also force their children to follow the instructions of the institutions. They should use masks and avoid handshaking in schools/classes. Students must bring their own drinking water. They can read other instructions regarding SOP to follow. They can get a copy of the instructions. Good Luck for all students to start again their journey of education at classes. Punjab Government, Federal Govt, Balochistan and Sindh Govt will also Notifications soon. Although the Govt has announced for the restart of classes.