Last Updated on October 31, 2021 by Galaxy World
Government of Khyber Pakhtunkhwa and the Punjab Government have announced extension Holidays in Schools/Colleges till 15th Sep 2021. The Governments have to make extensions in already announced schools due to the spread of COVID-19 in the country.  The schools were to open on 13th September 2021 but now will remain closed till 15-09-2021.  The details of the same holidays/closing of educational institutions are as under:
KPK Extension Holidays in Schools/Colleges till 15th Sep 2021
In pursuance of the decision taken in the NCOC meeting dated 09-09-2021 and in continuation of this department's Notification of even number dated 08-09-2021, the Competent Authority is pleased to extend the closure of all Public/ Private Universities/Colleges/DIAs in already notified Districts (Peshawa, Swabi, Malakand, Swat, Haripur, Abbottabad, Mansehra, D.I. Khan & Mardan) till 15th September 2021.
The above-mentioned instructions are subject to be reviewed in light of any further issues by NCOC or Provincial Government.
Note: The Khyber Pakhtunkhwa Government announced holidays extension only for those districts where they have already announced for closing.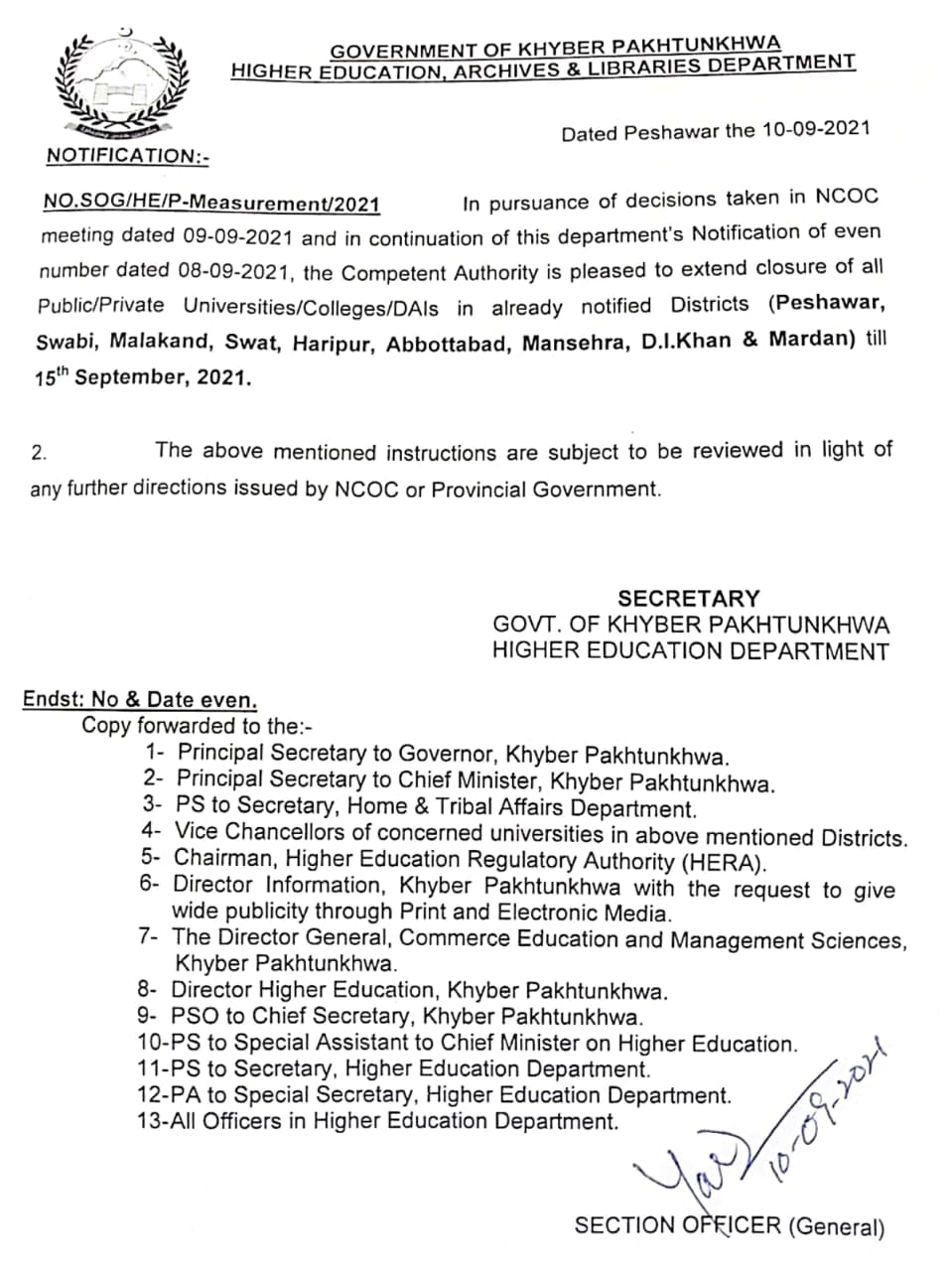 KPK School Will Remain Closed
Elementary & Secondary Education Department KP also issued a Notification for closures of schools in particular districts. The Notification issued on 10-09-2021.
Announcement of Closure of Schools in Punjab till 15-09-2021
Education Minister Punjab has also tweeted for the extension of holidays in Punjab schools till 15-09-2021. According to him, "All Public and Private Schools of Punjab to remain closed until Wednesday, September 15th, 2021. Stay home and stay safe." As per the instructions of the education minister the schools will remain closed due to the coronavirus situation. The NCOC meeting will clear all the situation during the next meeting. According to previous orders, there were instructions for the closing of Punjab schools wef 6th Sep 2021 to 11th Sep 2021.

Extension Holidays in Colleges and Universities Punjab
In pursuance of the directions of NCOC dated 09.09.2021, all public/private sector Universities, Degree Awarding Institutions, and colleges in the following cities will remain closed:
Rawalpindi
Gujrat
Gujranwala
Sheikhupura
Sialkot
Lahore
Faisalabad
Sargodha
Khushab
Mianwali
Bhakkar
Khanewal
Multan
Bahawalpur
RahimYarKhan
Institutes in the remaining areas will follow a staggered attendance schedule and adhere to the COVID19 SOPs and also ensure 100% vaccination of all teaching, non-teaching staff, and students as well.