Last Updated on August 6, 2021 by Galaxy World
Federal Education Minister has announced for Spring Holidays 2021 / Closing of Educational Institutions in 7 cities of Punjab. In Islamabad and Peshawar, they will also close the educational institutions  Educational Institutions in Sindh and Baluchistan would continue with 50% attendance every day.
Spring Holidays 2021 / Closing of Educational Institutions
In Punjab, spring break will start from Monday, March 15 to March 28. That is in the following cities and all education institutions: Lahore, Rawalpindi, Gujranwala, Sialkot, Multan, Faisalabad, and Gujrat. In Capital territory, all educational institutions will also close from March 15. In KP they will close in Peshawar. Decisions regarding Muzzafarabad will be taken by AJK Government. We will continue to review the situation
Send Up Exams 2021
All send-ups and exams being currently conducted will continue under proper SOPs
Earlier an Important meeting at the National Command and Operation Centre (NCOC) held today to review the health situation and take decisions regarding educational institutions. Participated in by Ministers from all the provinces, AJK and GB.
Summary
The government has announced to close the schools/colleges/universities in the following cities with effect from 15th March 2021:
Multan
Rawalpindi/Islamabad
Faisalabad
Sialkot
Gujranwala
Gujrat
Lahore
Peshawar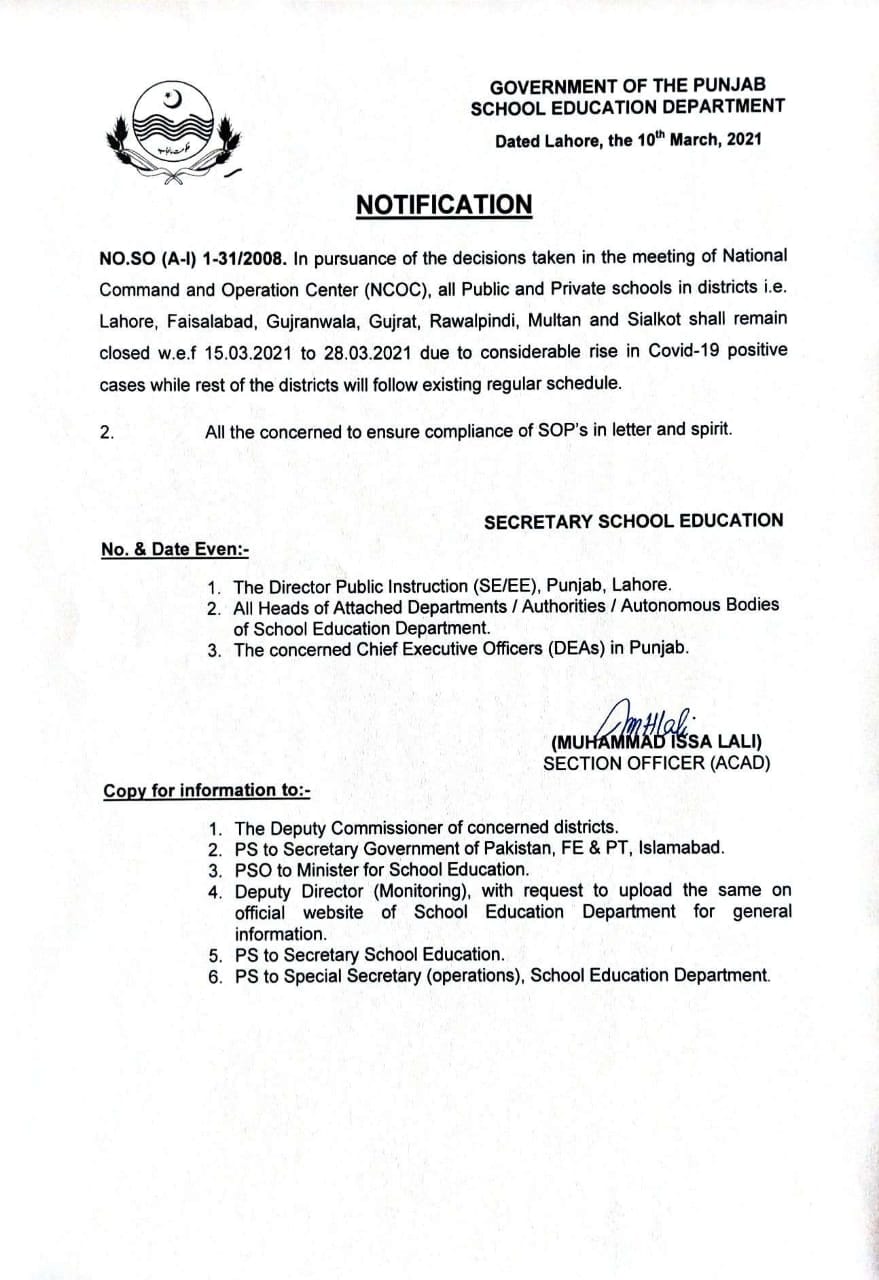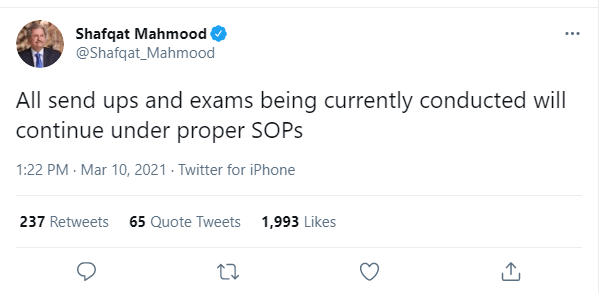 As soon as the situation is better or otherwise, the committee will again take the decision.
Holidays in school wef 15th Mar 2021
The government of the Punjab, School Education Department has issued a Notification on 10-03-2021 in connection with Holidays in school wef 15th Mar 2021 to 28th March 2021. The details are as under:
In pursuance of the decision taken in the meeting of NCOC, all Public and Private schools in districts i.e Lahore, Faisalabad, Gujranwala, Gujrat, Rawalpindi, and Sialkot shall remain closed with effect from 15th March 2021 to 28th March 2021 due to considerable rise in COVID-19 positive cases while rest of the district will follow the existing regular schedule.
HED Department Early Spring Break
Higher Education Department Punjab has also issued a Notification on 10-03-2021 in connection with the early spring break in colleges and Universities in the following cities:
Rawalpindi
Gujranwala
Gujrat
Multan
Faisalabad
Sialkot
Lahore
Special Thanks: Mr. Zahid Khan