Federal Board of Revenue has Filing Made Friendly for Salaried Persons Taxpayers. Now the employees can make their own file easily by following a few steps to become filer.
Filing Made Friendly for Salaried Persons Taxpayers
The employees / Salaried Persons can get help from the following to become file in a very easy way.
One Window Access
FBR's Website reshaped with specific icons to give taxpayers prompt and easy access to all online filling portals under the following Link:
Online Filling Services
New Simplified Return
Tax Return Form for Salaried Taxpayer has been made more simplified and easier
Wizard Base Interface
In order to make tax return user-friendly and self-explanatory a new Wizard Based Interface, FBR has Introduced which also provides navigational help for convenient filing.
Taxpayers' Guidance
Watch tutorial videos available at FBR's website Or call helpline 051-11 772 722. For any guidance regarding the online filing of returns.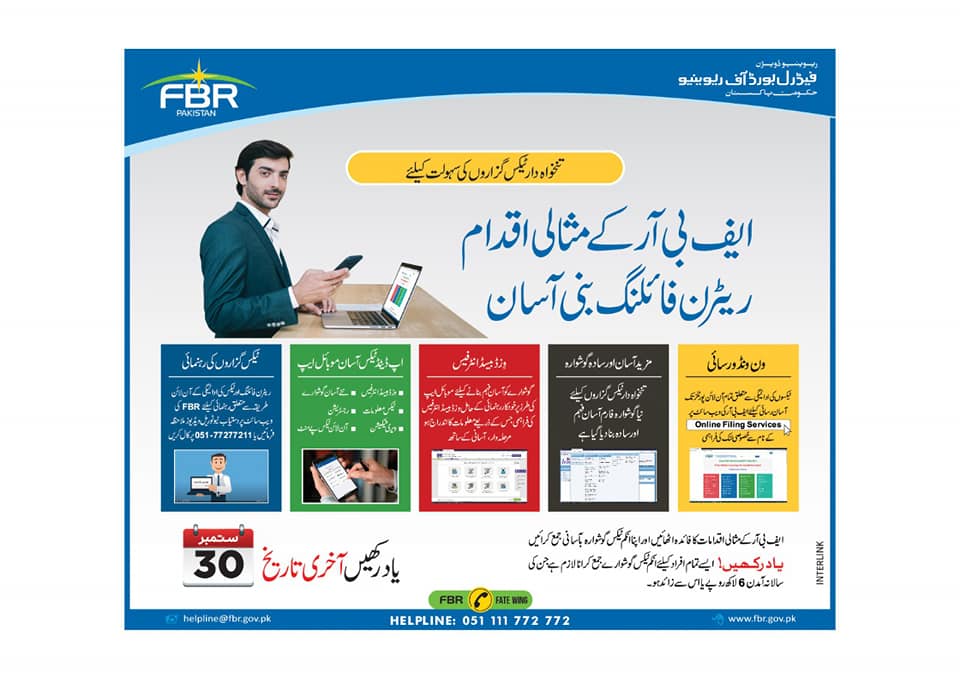 Remember: All those employees whose annual income is 600,000/- or more should fill the tax returns. The employees should get the benefit from the facility of the Federal Board of Revenue (FBR) and must easily deposit the returns. The last date to submit the tax returns is 30th September 2020.