Last Updated on August 6, 2021 by Galaxy World
A number of Punjab Public Service Commission Jobs in Livestock and Other Departments of Punjab province has been announced. The last date to apply for these PPSC  jobs is 07-01-2021. The list of the departments where these vacancies are available is as under:
Punjab Public Service Commission Jobs in Livestock and Others
Agriculture Department (Agriculture Extension & Adaptive Research Wing Punjab
Livestock & Dairy Development Department Punjab
Communication & Works Department (Road Research & Material Testing Institute Punjab
Forestry, Wildlife & Fishing Department Punjab
Housing Urban Development & Public Health Engineering Department, Punjab Housing and Town Planning Agency
The details of the vacancies department wise are as under:
Sr. No
Name of Post
BPS
No of Vacancies
Department Name
1
Senior Instructor Agriculture Training Institute
BPS-18

For five years contract period

01 Vacancy
Agri Department
2
Veterinary Officer (Health /  Research)
BPS-17

On regular Basis

19 Vacancies
L&DD Department
3
Veterinary Officer / Livestock Production Officer / Instructor (Training & Coordination)
BPS-17

Regular Basis

03 Vacancies
-do-
4
Agriculture Officer
BPS-17

On Contract basis for 5 Years

01 Vacancy
-do-
5
Junior Research Officer (JRO)
BS-17

On Contact basis for three years

04 Vacancies
C&WD
6
Network Administrator
BPS-16

5 years Contract

01 Vacancy
FW&FD
7
Remote Sensing Analyst
BPS-17

On Contract Basis for a period of five years

01 Vacancy
-do-
8
Assistant Director (Architecture)
BPS-17

03 years contract

1 Vacancy
HUD&PHED
9
Assistant Director (Budget)
BPS-17

Three years contract basis)

01 Vacancy
-do-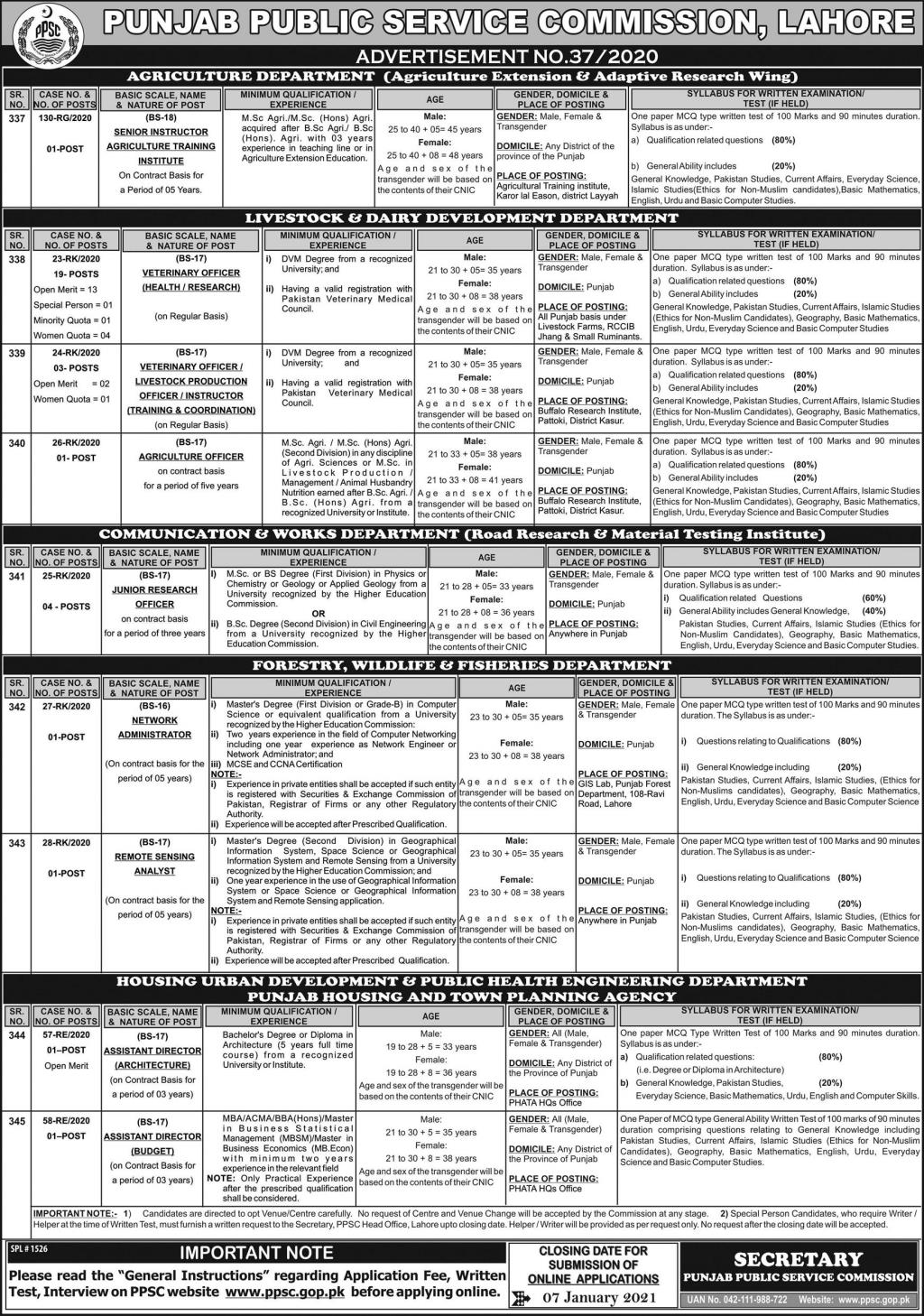 If you are worried, how much salary you will get after your appointment through PPSC, you no need to be worried. I have prepared a complete chart of salary for the freshly appointed employee in 2020-21. You can easily find out the pay and allowances. There may be some difference in the salary in certain departments. But the main pay and allowances are the same as I explained in this chart.