Last Updated on August 6, 2021 by Galaxy World
Allama Iqbal Open University has shared the alert by giving a Limited Time Offer for Students Who Have Missed AIOU Workshop. The details are as under:
Offer for Students Who Have Missed AIOU Workshop
Students who have missed a workshop on a code of Autumn should inform their regional focus today. Such students from the Peshawar region must send an email to [email protected] today so that their names can be noted. Please enter your name, roll number, program, course code number (whose workshop is missing) in the email. Students who did not inform in time will reappear in the result. Students from another region only to their regional folk person. Email us. Special workshops for such students are about to start so send an email in time. No one's name will be noted by comments. Inform your friends immediately. Missed Workshops of Autumn in the subject of email Must write asked.
Note: Gin Programs (M. A, M. Sc, M. Ed) workshops are not scheduled yet. Don't email students but check their schedule first on the university website. Their workshops will be scheduled later.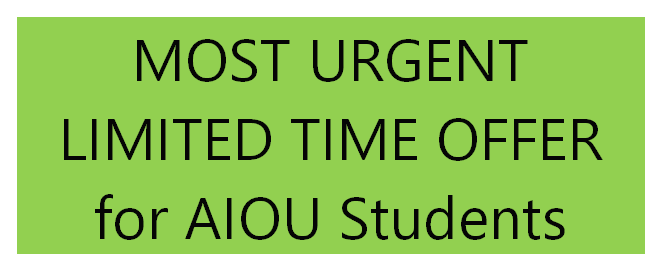 You may also like: Correct Assignment Submission Login AIOU
Special thanks to Mr. Muhammad Saleem for sending the information.