Inter Boards Committee of Chairmen (IBCC) has issued a clarification regarding Fake Notification of SSC & HSSC Annual Exams 2021 in Aug-Oct 2021. The details are as under:
Fake Notification of SSC & HSSC Annual Exams 2021
In context to news about the rescheduling of examination throughout the country, it is informed officially that the said news item on social media is fake information, neither it was issued by the IBCC, nor it is the obligation of IBCC to treat the matters in such a way. Besides, no officer has shown the signatory of this fake communication exists as Secretary IBCC. The entire news, it's a signatory is denied officially by IBCC. This has no worth at all.
All Boards Domain
All the BISEs across the country work according to their domain and schedule. The IBCC, therefore, requests not to pay any attention to this fake information about the examination, which has been floated on social media. Examinations across the country will be conducted by the respective boards in accordance with their schedules and IBCC has no role in it. All confirmation may be obtained from respective boards about conduct and allied matters of examinations.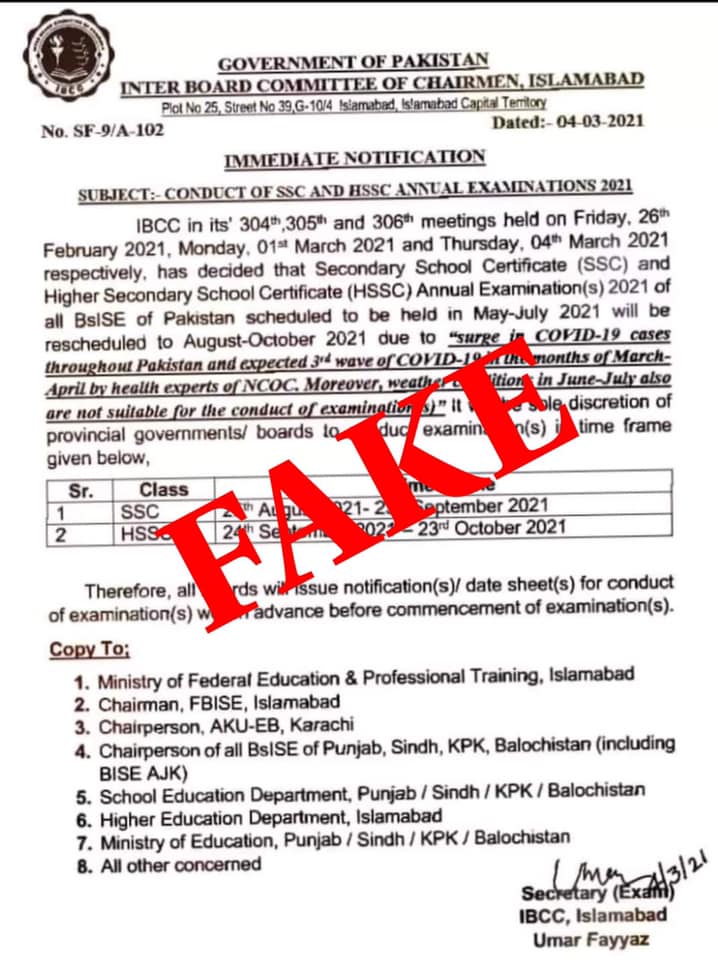 The students should not keep in mind such type of bogus notification. The boards will issue their own Notifications.
You may also like: Clarification of DRA 2021 on Running Basic Pay