Last Updated on August 6, 2021 by Galaxy World
Government of Khyber Pakhtunkhwa, Elementary & Secondary Education Department has issued a Notification on 29-03-2021 in connection with Holidays in 6 More Districts of KPK till 11th April 2021. The details are as under:
Holidays in 6 More Districts of KPK till 11th April 2021
In continuation of this department notification of even number dated 24-03-2021 and in view of the prevailing COVID-19 situation, all public and Private Primary and Elementary Educational Institutions (Primary/Middle/High & Higher Secondary Schools) including cadet colleges, model schools, academies, and tuition centers shall remain closed for teaching in District Bajaur, Khyber, Shangla, Dir Upper, Abbottabad, and Haripur till 11th of April, 2021.
Students will not be called to schools for any reason during this period of closure. However, management and teaching staff are allowed to attend their respective institutions as per requirement determined by the Management/Principal/Head Master of the Educational Institution strictly in accordance with SOPs for online teaching or preparation of assignments/homework for delivery to students through postal services or errand staff or in extreme cases by inviting a parent or a guardian to the institution on a staggered schedule.
Khyber Pakhtunkhwa Education Department decides to close schools in 6 more districts.
Peshawar. The decision to close the school has been taken due to the increase in corona cases in these districts. Shahram Khan Turki
Peshawar. The newly closed districts include the tribal districts of Khyber, Shangla, Bajaur, Abbottabad, Upper Dir, and Haripur. Educational activities in 10 already notified districts as well as 6 more districts will remain closed till April 11, Education Minister said.
Peshawar. Educational activities will be stopped in the districts where the number of cases will increase. Shahram Khan Turki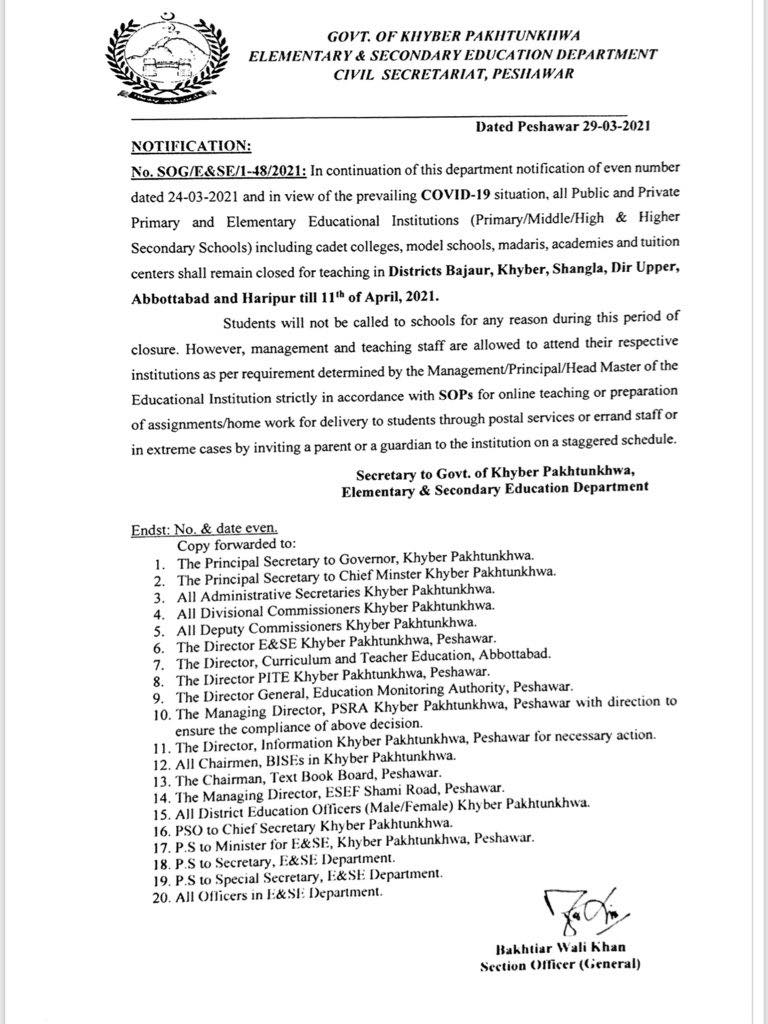 You may also like: AIOU Date Sheet Semester Autumn 2020