Last Updated on August 6, 2021 by Galaxy World
I am sharing today, on 02 June 2021, the Updates of Inter Provincial Education Ministers Conference Regarding Exams and Holidays extension to students. The meeting/conference is scheduled on 02-06-2021 to discuss the matter and review the situation of exams and the opening of classes.
The Latest Updates of Inter Provincial Education Ministers Conference Regarding Exams
Keeping in view, the current state of the COVID-19, weather, duration of classes, preparation of the students for exams, the meeting today is scheduled. The updates of today's Conference, I am waiting as soon as the announcement the committee makes, I shall keep the visitor's updates.  Federal Government, KPK, and Punjab Governments have already issued the Revised Schedule of SSC and HSSC Annual Exams 2021.
Participants of the Conference
Federal Education Minister, Mr. Shafqat Mahmood
Punjab Education Minister
Sindh Education Minister
Balochistan Education Minister
AJK Education Minister
IPEMC Today's Updates as on 02-06-2021 Conference:
9th, 10th Exams will only be in Elective Subjects with Mathematics Compulsory i. e in 4 subjects
11th and 12th Exams will be only in Elective subjects

No exams of the remaining subjects

All Boards will start the exams after 10th July 2021 instead of June 2021

10th and 12th Exams will they take first and after the end of X and XII exams, IX and XI Exams the Boards will start. 

Students of 9th and 11th Classes have allowed attending the classes.

No teacher will perform the duty without the COVID-19 Vaccine.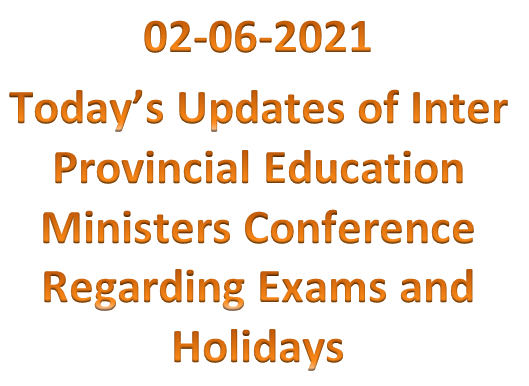 Previous Updates/News
The schedule of the meeting the concerned authorities issued yesterday on 1st June 2021.  According to the news, there are different proposals for the exams. Some of the same are as under:
Proposal of giving Exams for SSC and HSSC 2021 in Elective Subjects
Balochistan, KPK, Punjab, Islamabad, and AJK Boards agree on this proposal
Sindh Boards have also shown conditional agreement
In the agenda, on SSC level only Physics, Chemistry of Science subjects included.
On HSSC level, Pre-Medical Group: Physics, Chemistry, Biology
Pre-Engineering: Physics, Chemistry, Mathematics
There is a proposal to include a few subjects of the humanities group.
There is another proposal to start the exams from July 2021 instead of June 2021.
To decide about the Summer Vacation/Holidays 2021

Closing of Schools/Colleges for all classes
You may also like: Revised Syllabus for HSC 2021 Sindh