Last Updated on August 17, 2021 by Galaxy World
Government of Sindh, Services, General Administration & Coordination Department has issued a Notification on 16-08-2021 in connection with Holiday on 18th & 19th August 2021 in the province of Sindh.
Holiday on 18th & 19th August 2021 Sindh Province
The Government of Sindh has been pleased to declare 18th & 19th August 2021 (Wednesday & Thursday) as public Holidays throughout the Province of Sindh, on the occasion of Ashura (9th & 10th Moharram-ul-Haram 1443 A.H) for all offices, Autonomous, Semi-Autonomous Bodies, Corporation and Local Councils under the Administrative Control of Government of Sindh except essential services and departments and offices engaged in prevention and control of COVID-19 emergency.  
Summary of Holidays
Dates (AD): 18th August 2021 and 19th August 2021
Dates (A.H) 9th Moharram-ul-Haram and 10th Moharram-ul-Haram
Days: Wednesday and Thursday
Occasion: Ashura Holidays
Province: Sindh Province
Category of Holidays: Public Holidays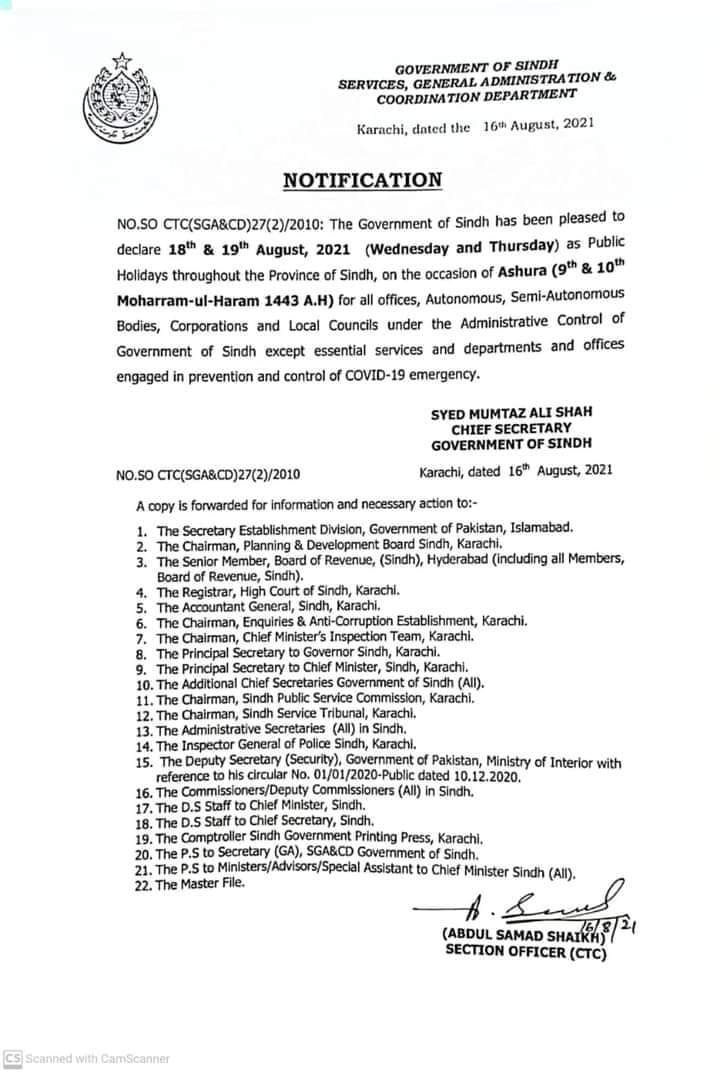 You may also like: Special Allowance 2021 Punjab @ 25% Clarification
Note: Federal Government and other provincial Governments have already issued their notifications for holiday on 9th and 10th Moharram-ul-Haram. If they have not issued recently, you can see the notification in the annual holiday schedule. This mostly the Government issues in January or February.