Last Updated on November 30, 2022 by Galaxy World
The Directorate of Public Instructions (EE) Punjab issued a Notification on 30-11-2022 in connection with the Opening e-Transfer for Teaching Staff in School Education Department Punjab (SED Punjab). The details are as under:
Opening e-Transfer for Teaching Staff in SED Punjab
It is to inform you that the component authority has approved the opening of the e-Transfer round for adjustment on promotions of different categories of teachers, awaiting posting teachers under Hardship i.e. Divorce, widow, Wedlock, Marriage, Disability, Medical, and Mutual transfers.
Schedule of Transfer/Posting
The Schedule will be followed as under:
Description
Teachers will apply from
Verification will be made by CEOs
Submission of Appeals
Decision on appeal by the review committee
Orders will be issued
All Categories
15.12.2022

To

25.12.2022

26.12.2022

To

02.01.2023

03.01.2023

To

06.01.2023

07.01.2023

To

15.01.2023

20.01.2023
All CEOs (District Education Authorities) are directed to communicate the schedule in widespread for teachers/officers positively.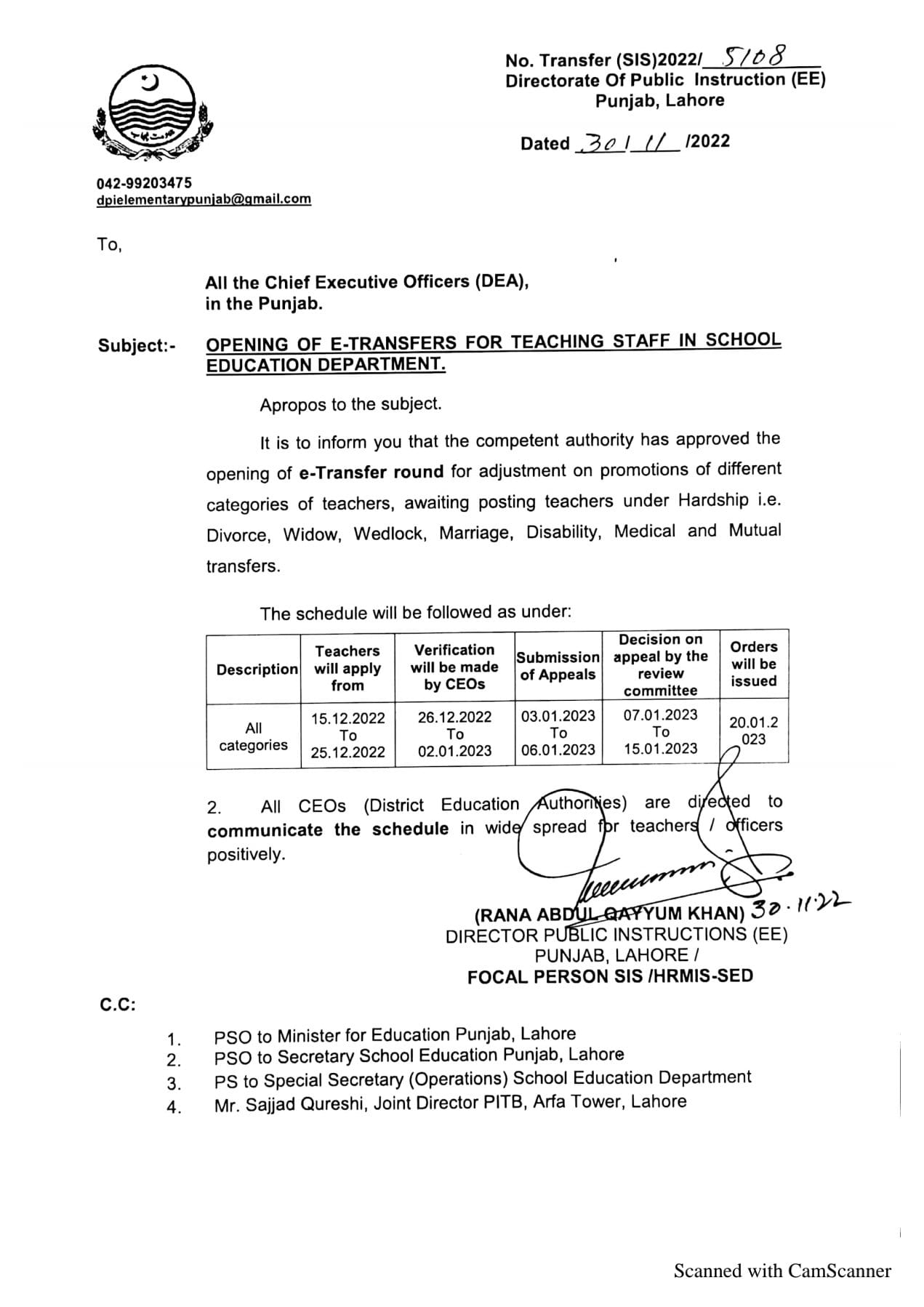 Reason for Opening of E-Transfer New Phase
The reason for the transfer posting of the new phase in the School Education Department Punjab is as under:
Adjustment of Teachers on their promotion
Waiting for Posting of teachers on a Hardship Basis like as under:
Disability Basis Transfer
Medical basis Transfer
Divorced Cases
Widow Transfer
Mutual Transfer of teachers