Last Updated on December 11, 2022 by Galaxy World
Local Government in Punjab launches Birth Registration Campaign across Punjab. The  Registration officials/ Union Council Secretaries are advised to facilitate and enhance Birth Registration. The special focus will be on girl child Registration in South Punjab.  The public awareness events will be organized at Tehsil and District levels. DGLGs will ensure the presence of the UC secretary in the union Council Office during the week for Birth Registration.
Activities of Birth Registration Campaign across Punjab
The following activities will be carried out in connection:
Enhance birth Registration across Punjab particularly Girl Child Birth Registration in South Punjab
Promote the legends of Birth Registration at all public as well as private levels.
Engage all stakeholders to promote birth Registration in the districts
Ownership of the agenda by the Government at provincial and Local government institutions at the local level (MCs and LUCs)
Work on the demand side of Registration engaging parents/community on birth Registration
Public awareness campaign on the importance & procedure of birth Registration (Birth Registration Rule 2021)
Close monitoring of Birth Registration during the BR Campaign
Appreciation to best performers at the Districts level
Engage in Social Welfare, Health, Education, NADRA, Population Welfare Departments, and other stakeholders in BR Campaign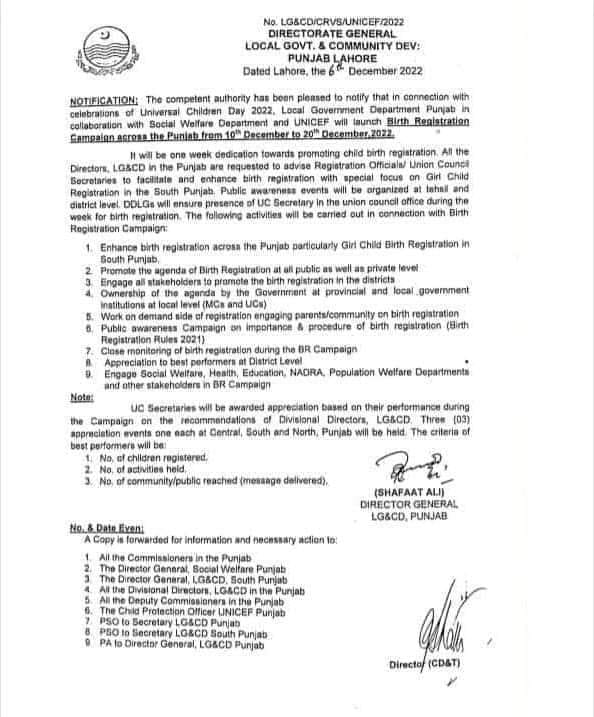 Appreciation Award
UC Secretaries shall be awarded Appreciation based on their performance during the campaign. Three Appreciation events shall be held in Central,  South, and North Punjab.
Criteria
The criteria for the best performer are as follows:
Number of Children Registered
Number of activities held
Number of community/ public reached  (message delivered)