Last Updated on December 29, 2022 by Galaxy World
Educational Scholarships 2022-23 Punjab Government Employees (Serving / Retired)have been advertised by the Administrative Officer, Provincial Board of Management Benevolent Fund Govt of Punjab. The details are as under:
Educational Scholarships 2022-23 Punjab Government Employees (Serving / Retired) BPS-01 to BPS-22
The Government of Punjab announces Educational Scholarships for the Punjab Government Servants.  In this concern the, government invites applications from candidates. The details are as follows:-
Eligibility Criteria:-
Only 2 Children of In-service and retired servants can apply, who have passed matric or upper-class examination with 60% marks and have taken admitted to the next class. If any child is studying in an approved institution, then 3 children can apply for the scholarship.
Three children of deceased or disabled employees of the government can apply.
The children of deceased Government employees can apply from primary to matric classes as well.
Note:- The student is not eligible to avail of the scholarship after 16 years of Education.
Procedure to Apply for Stipend:-
All government servants can submit the separate applications of their children attested by the Head of the educational institution in the following offices:-
List of Offices
Sr. No
The Type of servants
Offices for submitting applications
1
All Gazetted Servants  (Grade 16 to 22)

Non Gazetted Secretariat Employees (Grade 1 to 15)

Provincial Welfare & Fund Board  Alfalah Building, Shahra e Quaid-e-Azam, Lahore
2
All Non-Gazzeted Employees (Grade 1 to 15) except Secretariat Employees
Deputy Commissioner of District/ chairman District welfare & fund Board,
If both parents are Punjab Government servants, they should apply for each child's Scholarship  separately
.
All the servants of the Government of Punjab can submit applications attested by the Head of the Institution by reference to the Head of the Department.
Required Documents:-
The attested copies of the following documents/Certificates are required along with applications:-
Copy of the B-Form/CNIC of the student
The copy of CNIC of Both parents (Mother&Father) or Copy of CNIC of Guardian
The copy of the Computerised slip of Pay of employee of December 2022 or January 2023 / attested copy of pension Books for retired employees.  The employees have to provide attested Challan 32-A if they pay the benevolent fund.
Result card issued by Board or University
Provide a copy of the Sanction Letter and mention the Ledger Number in case the employee claims monthly aid.
Certificate and registration no. For the years 2022-2023 Institution is the candidate is a student of a  private Institution.
You may also like: Notification of Winter vacation 28 Dec 2022 to 6th Jan 2023 NFEIs Punjab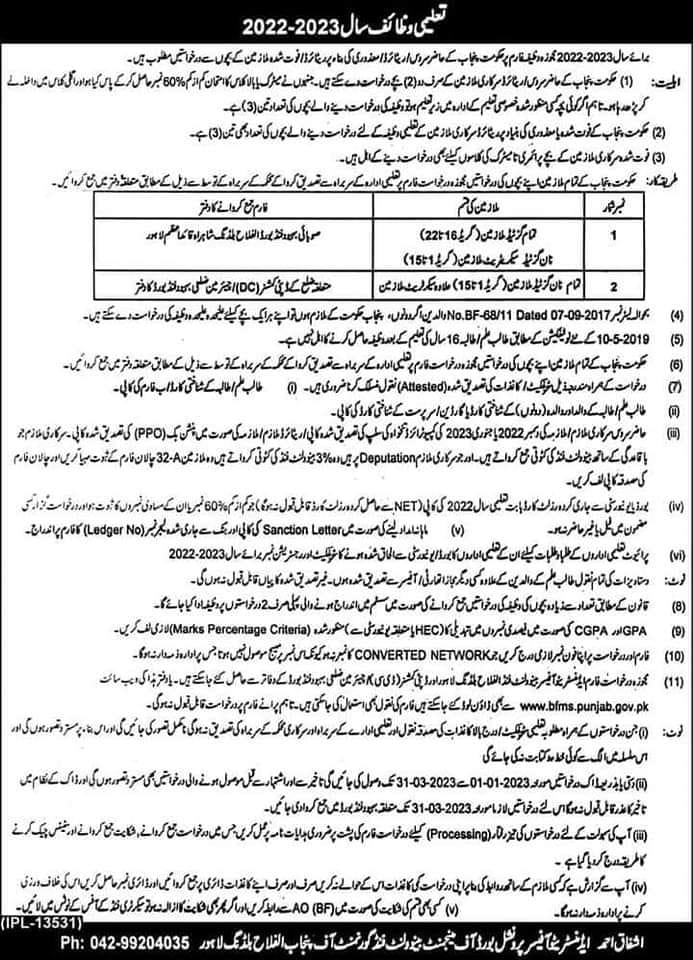 Application Form Punjab Government Servants Benevolent Fund
The employees can check the Application Form Punjab Government Servants Benevolent Fund for the year 2023.