Last Updated on January 18, 2023 by Galaxy World
The Government of Khyber Pakhtunkhawa, Finance Department issued a Notification on 18-01-2023 in connection with the Rate of Minimum Medical Allowance for BPS-16 Employees of the province of KPK. The details are as under:
Rate of Minimum Medical Allowance for BPS-16 Civil Servants KPK
I am directed to refer to the subject noted above and to state that in light of para-9 (i) (ii) of pay Revision-2015, employees in BS-16 are in receipt of Medical Allowance at varied rates majority less than Rs.1500/- per month whereas employees from BPS-03 to 15 are getting Rs.1500 per month as Medical Allowance which is an anomaly.
Keeping in view the above position, the following clarification is hereby issued to remove the anomaly once and for all:-
"Medical Allowance is no case, should be less than Rs.1500/- per month" 
Why Less Than 1500/- MA?
Some employees of BPS-16 may get less than 1500/- Medical Allowance. The reason for this same is that The employees will get the 15% of the initial basic pay of the 2008 pay scales. The employees who are more service have more than 1500/- Medical Allowance, while the newly recruited employees are getting less than 1500/- that is an anomaly.  While the lower grade employees have a fixed Rs. 1500/- as Medical Allowance. But now the Finance Department KPK has clarified this situation and ordered that no employee will get less than 1500/- Medical Allowance.
Not only there are sometimes issues but also with Conveyance Allowance as well as House Rent Allowance. Sometimes the Department transfers the employees from a small city to the main cities where HRA is 45%. By mistake, sometimes, the employees still may get 30% HRA. These points, the employees should consider while on their transfer posting.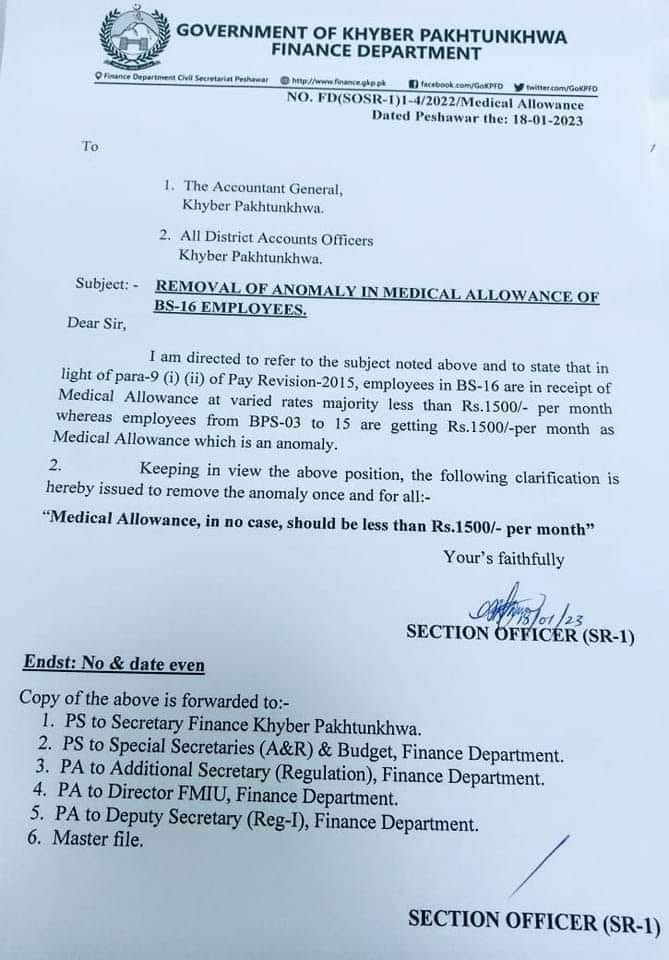 Punjab Government Employees and Federal Government employees are already getting the said rates of MA. Sindh Government employees are also getting these rates of Medical Allowance. There were some appeals from the Khyber Pakhtunkhawa Govt employees. Now the Finance Department removed the anomaly for such employees. These employees should now claim the payment of arrears amount that they have already less received.