Last Updated on April 9, 2023 by Galaxy World
Government of the Punjab, Services & General Administration Department issued a Notification on 05-4-2023 in connection with BPS-01 to BPS-08 Employees are Eligible for the Post of Junior Clerk under 20% Quota. The details are as under:
Eligibility BPS-01 to BPS-08 Employees for the Post of Junior Clerk under 20% Quota
As per the clarification issued the Punjab Government employees from Basic Pay Scale No. 01 to 08 are eligible to compete under the 20% promotion quota for the post of Junior Clerk (BPS-11). Before this, only the employees of BPS-01 to BPS-04 were eligible for the said 20% Quota Class IV promotion.
Finance Department Punjab issued a Notification on 07-02-2023 in connection with Recruitment and Promotion Rules 2023 Junior Clerks and now the Department issued the current clarification.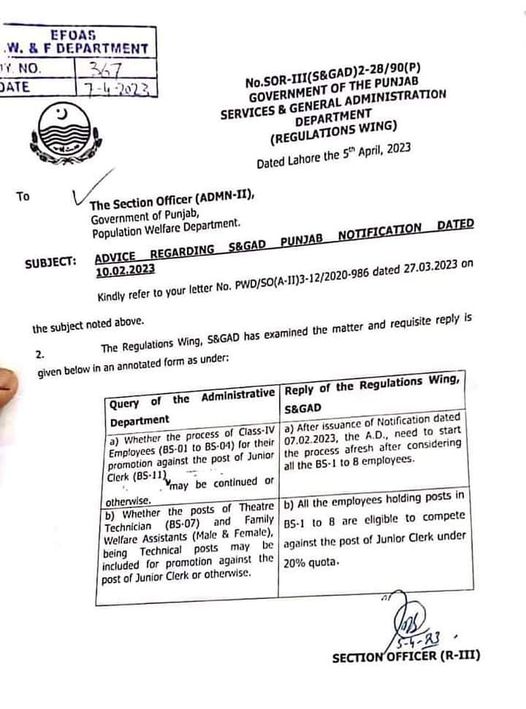 Advice Regarding S&GAD Punjab Notification
S&GAD, Punjab writes to Population Welfare Departments to reply to the letter of Population Welfare Departments dated 27.03.2023. In, The Services & Administration Department (Regulations Wing) advises the concerned department regarding the S&GAD notification dated 10.02.2023. The S&GAD (Regulations Wing), Punjab replies to some of the queries of the PWD.
S&GAD Replies to the Queries of PWD Regarding Promotion of Employees
The S&GAD, Punjab replies to the letter from the Population Welfare Department, Punjab regarding the notification dated 10-02-2023. In which, S&GAD answers some of the queries asked by PWD. Let's look at the queries and replies from both departments.
| | |
| --- | --- |
| Queries of the Administrative Degree | Reply of the Regulations Wing, S&GAD |
| a)      Whether the process of Promotion Class-IV Employees (BS-01 to BS-04) for their promotion to the post of Junior Clerk (BS-11) may be continued or otherwise. | a) After issuance of Notification dated 07.02.2023, the A. D., need to start the process afresh after considering all the BS-1 to 8 employees. |
| b)      Whether the posts of Theatre Technician (BS-07) and Family Welfare Assistant (Male & Female), being Technical posts may be included for Promotion against the post of Junior Clerk or otherwise. | b)  All the employees holding posts in BS-1 to 8 are eligible to compete against the post of Junior Clerk under the 20% quota. |