Last Updated on May 23, 2023 by Galaxy World
There are available Pakistan Railways Vacancies May 2023 on Contract Basis. The Government of Pakistan Ministry of Railways announces very important vacancies. The department invites applications from educated, talented, and well-experienced candidates. Therefore, professionals having an LLM degrees of, Barrister at Law have the best opportunity to serve the department. Initially, Department is recruiting on a contract basis for the period of 3 years.  But, it may be extended for more 2 years or may be converted into a regular basis.
Pakistan Railways Vacancies May 2023 on Contract Basis
Deputy Director Recruitment and Selection, Ministry of Pakistan Railways announce the latest vacancies in the department. All Pakistani Nationals having experience and relevant qualifications can apply. As the department is hiring professional and Efficient candidates on a merit basis.
List of Vacancies in Pak Railways
Legal Consultant
Legal Advisor
Director General (Legal Affairs)
Eligibility Criteria
The department requires suitable, qualified, and well-experienced professionals to serve the Department of Legal Affairs of Pakistan Railways on the following seats. Candidates must check the following requirements before applying. Eligible candidates must have the age of 62 years.
Sr.No
Title of Post
MP.no
No.of Posts
Required Qualification
1.
Director General(Legal Affairs)

 

MP-I
01
LLM,

Barrister at Law,

 

2.
Legal Advisor

 

MP-II
01
LLM,

Barrister a Law,

Member of Judiciary

3.
Legal Consultant
MP-III
01
Solicitor

LLM,

Barrister a Law
For the job seekers there are also available career opportunities in Armed Forces as there is annoucjnement of the registration to join Pak Navy 2023 as Cadet for the Pakistani residents.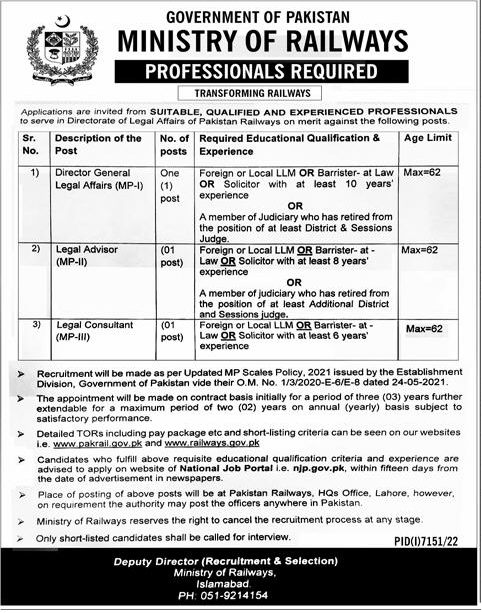 General Terms and Conditions
The recruitment process will be completed according to the Rules of Government Recruitment Policy.
Recruitment for all posts is purely on a contract basis.
Candidates must apply online via railways.gov.pk. Candidates must visit the website on a regular basis for a list of short listening and interview schedule.
Selected candidates will be recruited at Head Quarters of Pakistan Railway.
After document verification only shortlisted candidates will be called for an interview. Candidates must provide active mobile cell numbers.
The Ministry of Railways can cancel the process of recruitment at any stage.