Last Updated on May 24, 2023 by Galaxy World
Government of the Punjab, Higher Education Department issued a Notification on 23-05-2023 in connection with
Calls to Newly Recommended PPSC Lecturer in Islamiat (Female). The details are as under:
Calls to Newly Recommended PPSC Lecturer in Islamiat (Female)
The government of Punjab Higher Education Department issues notifications to the Principal Govt. Associate College (W) Islampura. The notification is about the attendance of newly recommended candidates for PPSC lecturer (Female).  It is about All those female Lecturers in Islamiyat who have Pasta from job Public Service Commission exam.
Arrangement of Sitting Place and Refreshment
Hundreds of female candidates have applied for the post of lecturer in Islamiyat. It informed all the successful candidates to reach the Government Degree College Women Islam Pura Lahore.
For this purpose, the Section Officer (DF) Issues a notification to the Principal of the Respective College to arrange the sitting place for the candidates. The college has also a responsibility to arrange refreshments for the office staff members and lectures.  about 184 candidates will appear on the mentioned dates in the schedule.
Date Time and Venue
The newly recommended candidates of PPSC in the subject of the lecturer in Islamiyat are called on the following date:
Sr.No
Name of Post
No.of Candidates
Venue
Day
Date
Time
1.
Lecturer in Islamiyat

(Female)

1 to 184
Govt.Degree College (W)Islampura, Lahore
Thursday
25-05-2023
08:0 AM
You may also like: PPSC Corrigendum Ad No. 04/2023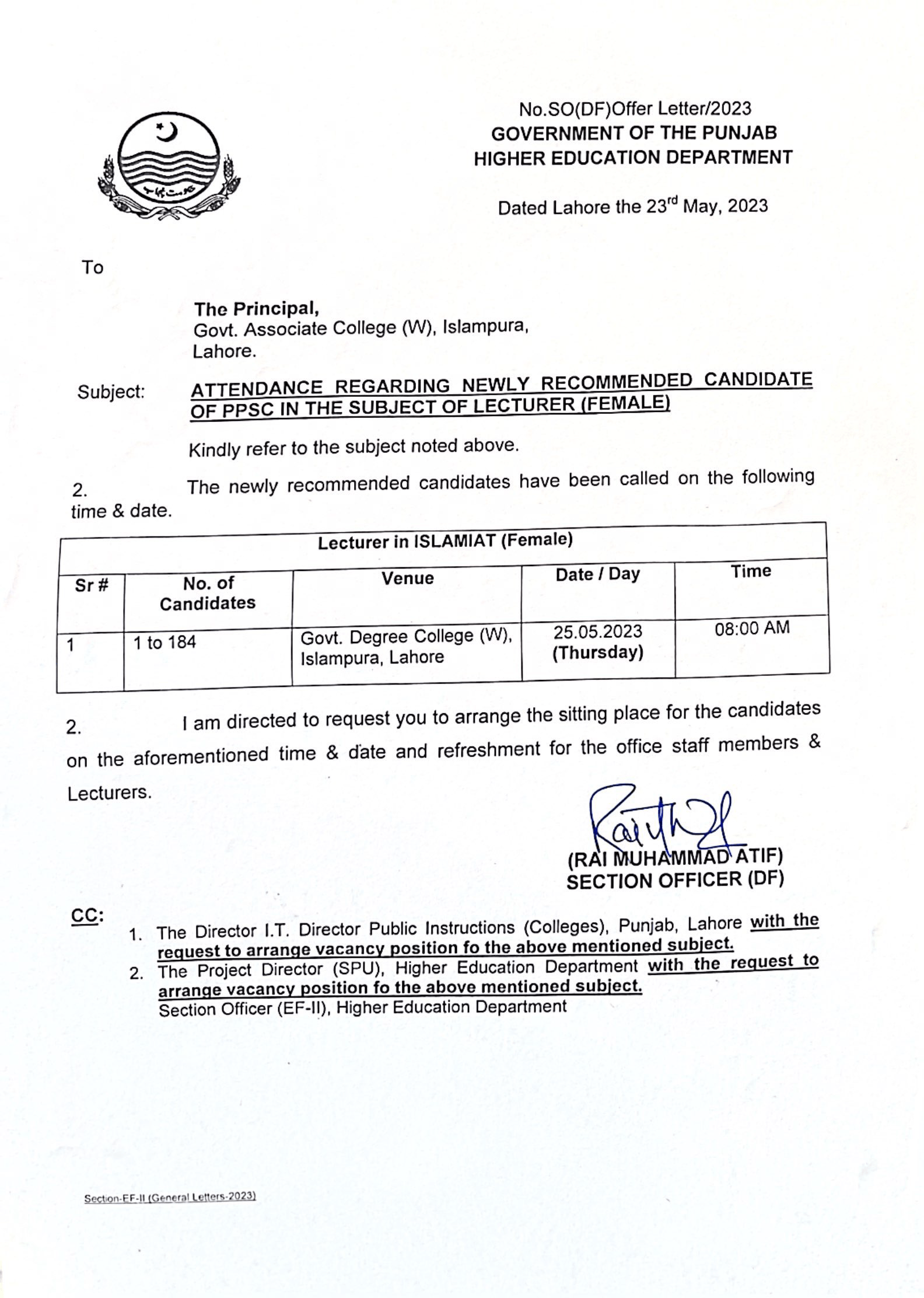 Note:
All respected lecturers must follow the schedule and reach on time at the venue.