The pensioners of the Sindh Government have been facilitated to get their pension through Bank Account by the Accountant General Sindh. Now they not need to stand in rows in the banks to get their monthly pension.
If you are the pensioners of the Sindh Government and getting your pension from Accountant General Sindh or from any District Accounts Office of Sindh then you can get your pension in the same way as the Salary is drawn from the bank on the 1st date of every month. There is no direct or indirect cost for this facility. This facility is for both the recent pensioners as well as the pensioners of the future.
According to this facility, the pensioners will have not to visit the District Accounts Office or Accountant General Office, if there is any increase in pension from time to time.  This increase in pension will automatically be added in their accounts through this computerized system.
For further details, you can contact the AG Office or concerned District Accounts Office. The pensioners residing in Karachi can visit PensionFacilitationCenter in the Accountant General Office. They can also contact on these phone numbers for the information.
021-99244815
021-99239453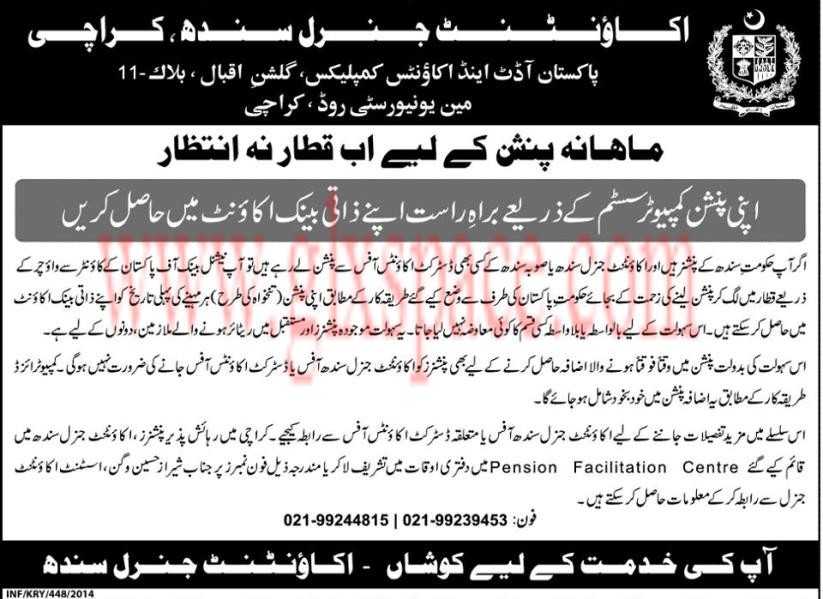 Form For Direct Transfer of Pension into Bank Account