Last Updated on August 7, 2014 by ShumailaKamal
Government of the Pakistan finance Division (Regulation Wing) Islamabad has issued Notification No. F.No.1(6)Imp/2000(Pt-II)-699 dated 21st July 2014 in connection with Grant of Advance Increments on Acquiring Higher Technical Qualification.
The references of the following are given in this Notification:
Finance Division's Clarification made to Auditor General of Pakistan vide letter No. F.1(48)Imp/94-1141 dated 22-01-1997. Copy attached)
In pursuance of the Supreme Court of Pakistan's order passed in Civil Petition No. 1409 of 2011 and FST's order dated 15th June 2011 passed in appeal No. 59(R) CS/2011.
With reference to the above, it has been decided that the advance increments allowed under the following Notifications:
Finance Division's O.M No. F.1/7/Imp-II/87 dated 01-07-1987 read with O.M No. F.1(12)-Imp-II/91 dated 29-06-1991.
The Advance Increments are admissible prior to 01-12-2001 on acquiring/possessing higher technical as well as non-technical qualification irrespective of the fact whether the employee concerned is employed against a technical post or a non-technical post.
This decision will be effective with effect from the date of the Advance Increments were allowed.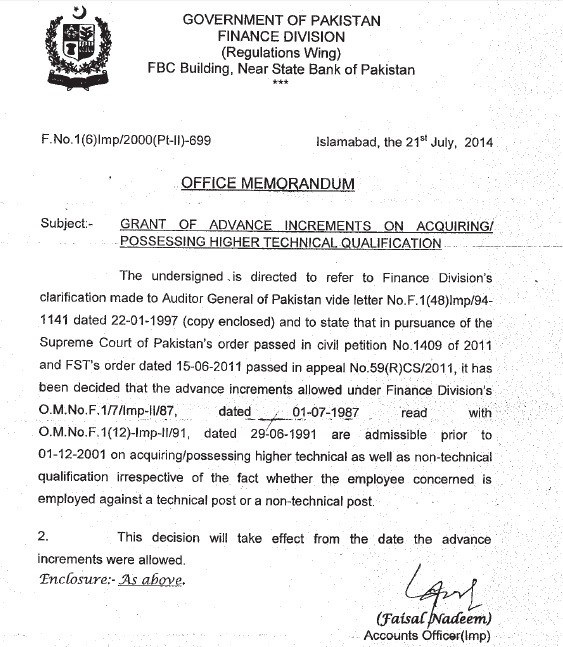 According to the letter No. F.1(48)Imp/94-1141 dated 22-01-1997, I am directed to refer to your letter No.241/Reg-I/Adv.Inc/24-94/C/Vol-I dated 24-11-1996 on the subject cited above and to inform that the officials (BPS-11) who possessing or acquiring of Associate Engineer Diploma are entitled to Advance Increments on possessing/acquiring B.Tech (Hons), B.Sc (Engg) or M.Sc (Engg) in the relevant technology.