Last Updated on February 22, 2015 by ShumailaKamal
Here is the Pension Calculator to Calculate Pension & Commute since 1978 designed by Maria Zain. This calculator is valid for pensioners who retired between 1978 to date. This pension calculator calculates pension along with all increases from 1980 to 2014. It also calculated commutation and date of restoration automatically. 
Pension Calculator
The benefits and the procedure to use this pension calculator has been explained below in detail:
Benefits of This Pension Calculator
Following are the benefits of using this calculator:
Using this calculator pension along with all increase can be calculated within a second.
This calculator also calculates the family pension.
With this calculator pensioners can check whether they are drawing pensions at correct rates or not. i.e accuracy of pension can be verified.
This calculator is valid for pensioners who retired in the period from 1978 to date
It has a built in date of pension restoration calculator so that you can know when your restoration date is falling due.
Using this calculator 100% accurate pension can be calculated within seconds.
It gives 100% accurate result for Punjab government pensions.
It is also accurate for the other provinces as well as Federal Govt Employees.
Method to Calculate Pension & Commute
Pensioners will input data in cells and C5:C11 and their pension along with all increases will be calculated automatically. The detail of filling the form is as under:
Province: Write "F" for Federal, "S" for Sindh, "B" for Balochistan, "P" for Punjab and "K" for KPK
BPS/Grade: Write your Basic Pay Scale No.
(Self /Family): Write "S" for Self and "F" for Family Pension
Qualifying Service: Enter Rounded off digit for your total length of service e.g 25 years 7 months would be entered as 26
Basic pay (Last Drawn Pay): S Explanatory – Enter your last drawn Basic pay here. If you retired on or after 1st June then add one more increment to your last basic pay.
Date of Birth: Enter Date of Birth in the format mm/dd/yy
Date of Retirement: Enter Date of Retirement in correct format i.e. mm/dd/yy or the calculator will not give correct result
Death of Employee/Pensioner: Only for Family Pensioners: In case the govt. servant died while in service write "E" here, also enter "E" in case date of restoration is before 01.12.2001.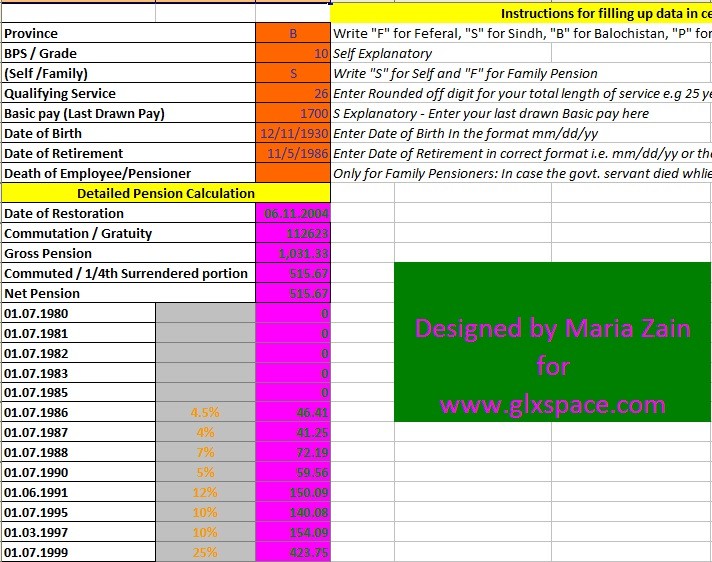 Important Note:
Utmost effort has been exercised to make this calculator as accurate as possible but there always exist some exceptions. So in case your pension does not tally with the result shown in this calculator, consult some other source to verify accuracy of your pension.
You can download the same pension calculator from the link below:
Pension & Arrears Calculator Due to Restoration of Commuted Pension
This is a Updated version of the pension calculator . In this calculator I've added automatic arrears calculation function which will be of benefit especially to Punjab Govt. Pensioners. It automatically calculated arrears from date of restoration. I've also changed Family Pension formula in this version. I hope pensioners will find it really helpful. For further assistance please email to Mrs. Maria Zain at this email ID: