Government of the Punjab Finance Department has issued Notification No. RO (Tech) FD 2-2/2014 dated 10-02-2015 in connection with Schedule of Wages Rates 2015 Punjab Govt. This Schedule of Wages rates has been approved by the Governor of Punjab with immediate effect.
Schedule of Wages Rates 2012 notified vide NO. RO (Tech) FD 2-2/2010 dated 26-07-2012 stands suspended accordingly. Appointments of Work Charged Employees shall be made in accordance with procedure laid down in the preface of Schedule of Wages Rates 2015 Punjab Govt.
Finance Department has prepared Schedule of Wages Rates 2015 prescribing wages of work charged establishment employed on seasonal and short term basis in the Irrigation, Power, Communication and Works, Housing, Urban Development and Public Health Engineering, Local Government & Community Development Departments and Local Governments. The Wages Rates given in the Schedule are based on the existing Basic Pay Scales 2011 and the grant of Adhoc Allowance-2012, Adhoc Allowance-2013 notified by the Government of the Punjab. The Wages Rates have been prepared by taking into account the total emolument, inclusive of allowances admissible to similar employees already converted into regular establishment, and hence no extra payment is admissible on these rates.
This Notification also covers the Appointment Rules for the Daily Wages Employees. Monthly Wages Rates for all trades have been mentioned in this Notification.
Note: Daily Wages Rates shall be allowed by the Competent Authority in accordance with wages rates notified on website of Finance Department for respective district.
Special Thanks to Mr. Iftikhar for sending the copy of the Notification of Schedule of Wages Rates 2015 Punjab Govt.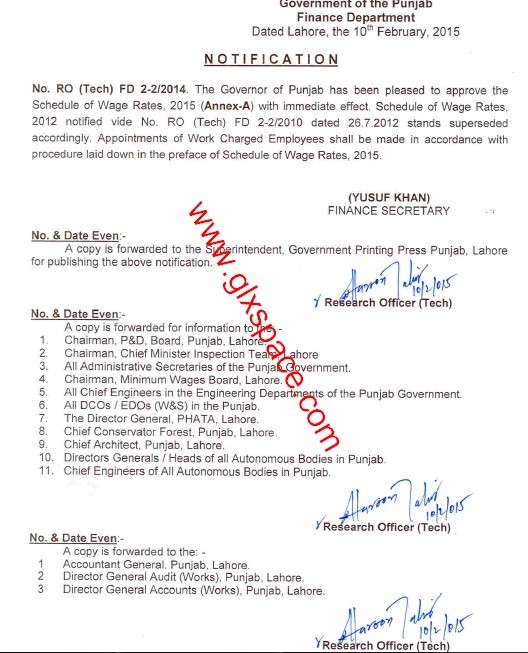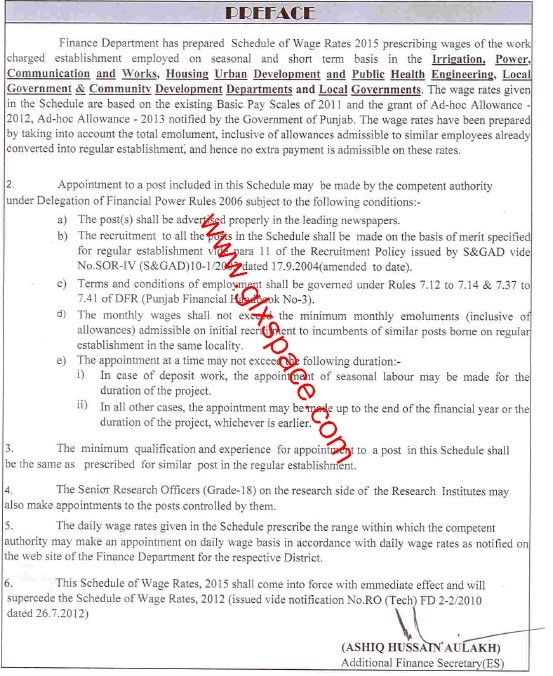 Schedule of Wages Rates 2015 Punjab Govt
The detail of the Wages Rates 2015 Punjab Govt can be seen in the pages below: