Office of the Deputy Commissioner Toba Tek Singh has issued Notification on 13-07-2019 in connection with Review Prices of Roti and Naan. Detail is as under:
A meeting of Price Control to review the prices of Naan & Roti was held on 13-07-2019 at 1500 Hrs in the Deputy Commissioner Office Toba Tek Singh. All officers concerned stakeholders attended the meeting.
In exercise of the powers conferred under section 3(2) of the Price Control and Prevention of Profiteering and Hoarding Act, 1977 vide Notification of the dated 09-01-2017 and in consultation with the concerned stakeholders & as per direction of Government of the Punjab, following prices of Roti & Naan have been reviewed and fixed with effect from 13-07-2019.
| | | |
| --- | --- | --- |
| Sr. No | Name of Item | Rates Fixed |
| 1 | Roti | Rs. 06/ 100 grams |
| 2 | Naan | Rs. 12/120 grams |
The orders shall remain enforced till further order to the extent of Open Market rates.
The sellers are required to display Rates List at prominent places for the information of the general public.
Issued under my hand and seal of this office on this 13th July 2019.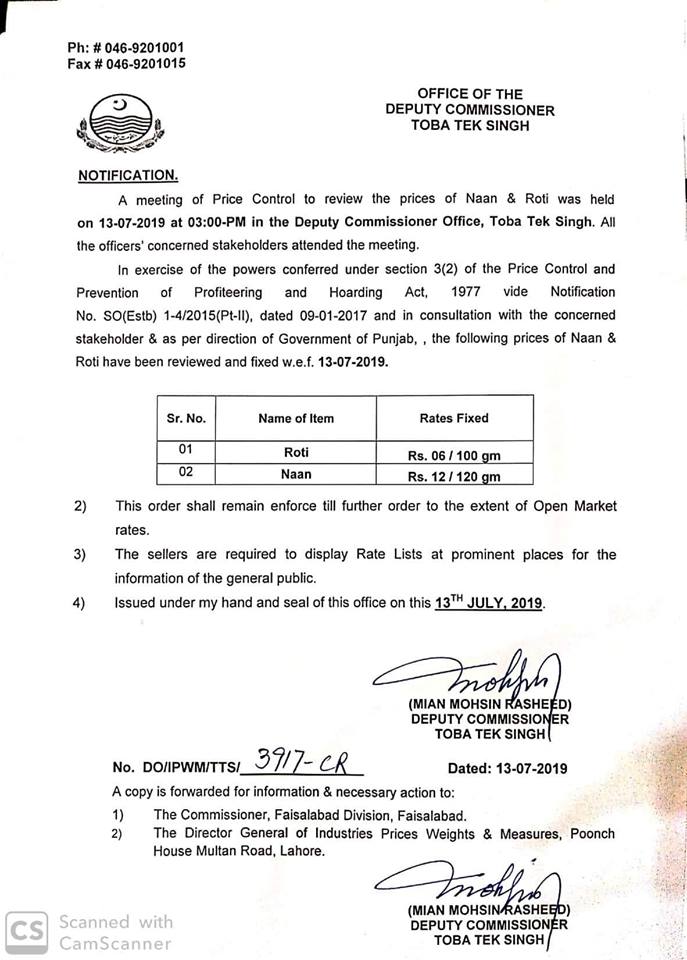 The copy of the same has been sent to the Commissioner Faisalabad Division Faisalabad,and The Director General of Industries Prices Weights & Measures, Poonch House Multan Road, Lahore.