Last Updated on March 7, 2020 by Galaxy World
PTA (Pakistan Telecommunication Authority) has issued instructions on 17-08-2019 in connection with Registration of Mobile Devices with Double SIMS (1 IMEI Registered and 2nd Not Registered). Detail is as under:
All the persons having mobile devices with double SIM/IMEi are to register their SIMS / IMEI if one of SIM slot / IMEI is register and other one is not. All such mobile users are advised to register their mobiles before deadline. It is always requested to the mobile users that they should buy PTA Registered Mobile Devices to avoid any issue in future.
Dead Line of Registration of Mobile Devices
According to the PTA, the last date to submit their request for registration of their duel SIM Mobile Devices is before 31st August 2019 (31-08-2019).
Procedure to Register Mobile Devices with Duel SIMS
Procedure to Register Mobile Devices with Duel Sims is so easy. Just do the following to be registered:
Just send the email to PTA  at this email. [email protected] with the given information.
Screen Shot of the device showing all the programmed IMEI
Screen Shot of device box showing IMEI
Copy of the Computerized national Identity Card (CNIC)
Full Contact Details of the applicant
Extension in Date of Registration Duel SIM Devices Slots
PTA has extended the date of Registration of the the duel SIM mobile phones whose one SIM is registered and other is not.  Last date to register is now 15-09-2019. The PTA will not consider to register slot of the mobiles after due date.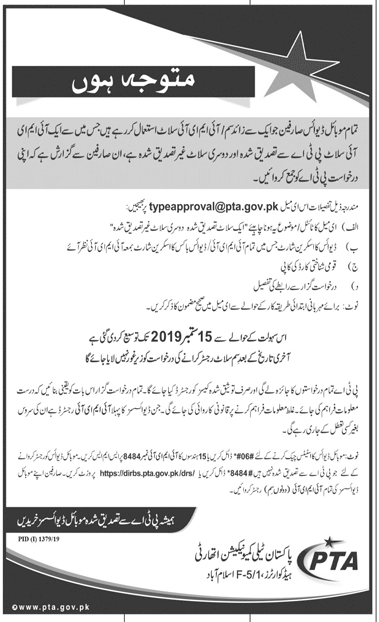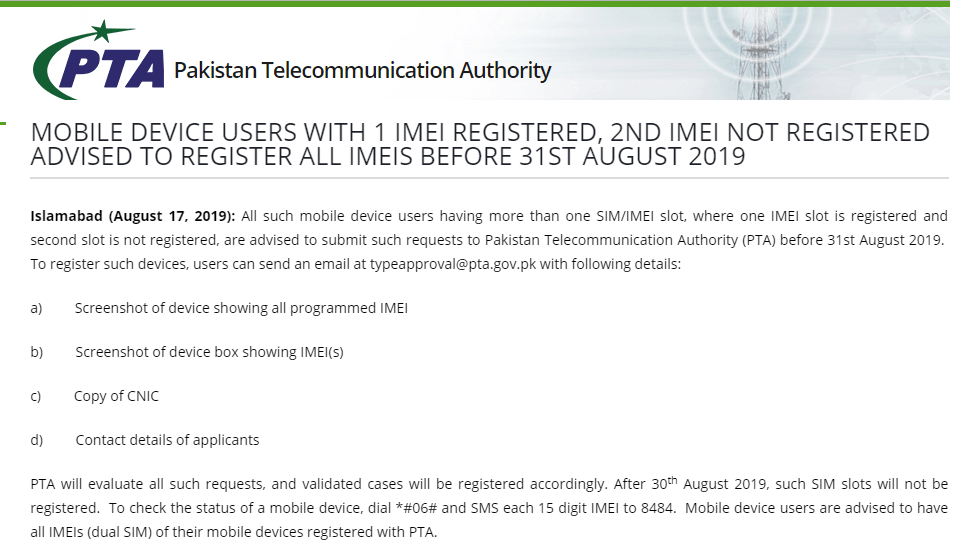 PTA will take necessary action on your request and the same will be registered accordingly. After 30-08-2019 there will be taken no action on the request to register the double SIM mobile device.
How to Check Your Duel SIM Slot is Registered or Not?
The method to check the registration of duel SIM slot of the mobile device is not difficult. Just do the following to check the status of registration:
Dial *#06# and SMS each 15 digit IMEI to 8484.
It is therefore requested to all the users of Duel SIM mobiles that they must register their mobile devices before due date so that they may not face any issue / problem in future. PTA has already warned that after that date they will not register such type of mobile devices.