University of the Punjab has issued Notification on 04-12-2019 in connection with Upgradation Senior KPO and Junior KPOs. Detail is as under:
In partial supersession of this office letter No.8308/Est.II dated 02.12.2019. In compliance with the orders of the Hon'able Lahore High Court, Lahore and on the analogy of Govt. of the Punjab's Notification No.FD.PC.3914/77(Pt.IV)(APCA/2008)(Proval)dated 04th January 2016 (duly adopted by the University of the Punjab vide No. 566-62/Est.II dated 11/01.2016), the Vice-Chancellor has been pleased to order that the decision of up-gradation of Senior KPO's from BS-14 to BS-16 and Junior KPO's from BS-09 to BS-14 already notified vide No. D/1969/EST.II dated 17.05.2019 be implemented with effect from 01.01.2019 instead of 17.05.2019 ( the date of issuance of notification).
Special thanks to Mr. Iftikhar Ahmad for sending the copy of the Notification of Upgradation Senior KPO and Junior KPOs University of the Punjab.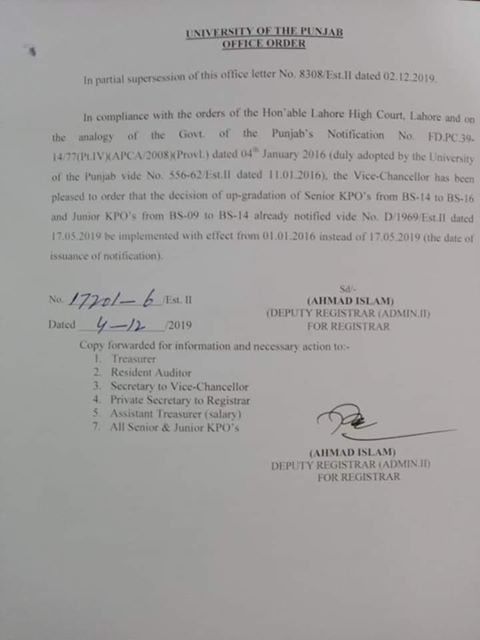 You may also like: Regularization of Contract Employees from date of 1st Joining