Higher Education Department Punjab has issued the advertisement of CTIs Jobs 2020 after the approval of the Chief Minister Punjab. These vacancies are for a limited period in the colleges of the province of Punjab. Detail of these vacancies is as under:
Conditions of CTIs Jobs 2020
1
Name of Position
College Teaching Interns
2
Age Limit
No age limit
3
Salary / Internship
45,000/- (Forty Five Thousands per Month)
4
Duration of CTIs
16 January 2020 to 31st May 2020
5
Minimum Educational Qualification
For BS Colleges: MS/M.Phil /Ph.D

For all other Colleges: Master Degree /BS (FYDP) at least 2nd Division in the relevant subject.

Total Marks for Education Qualification 85

Marks for Qualification above master degree 05

Marks of position holders in Board / University 05

Total Interview Marks 05

6
Procedure / Schedule
Willing male & female candidates can see the details of the vacancies at the notice board of their nearest college. Walk-in-Interview will be held on 13th January 2020. Successful candidates list will be displayed on 14-01-2020. The department will issue final list of the candidates on 15-01-2020.
More Jobs Waiting You: NTC & Fisheries Department Jobs
Advertisement of College Teaching Interns 2020
Advertisement of the CTIs Vacancies 2020 is as under for the information of the jobs seekers of the province of Punjab.  All these jobs are purely on temporary basis. The candidate has no right and cannot claim it to be a regular. However the candidate will get a certificate from the department on the successful completion of the internship.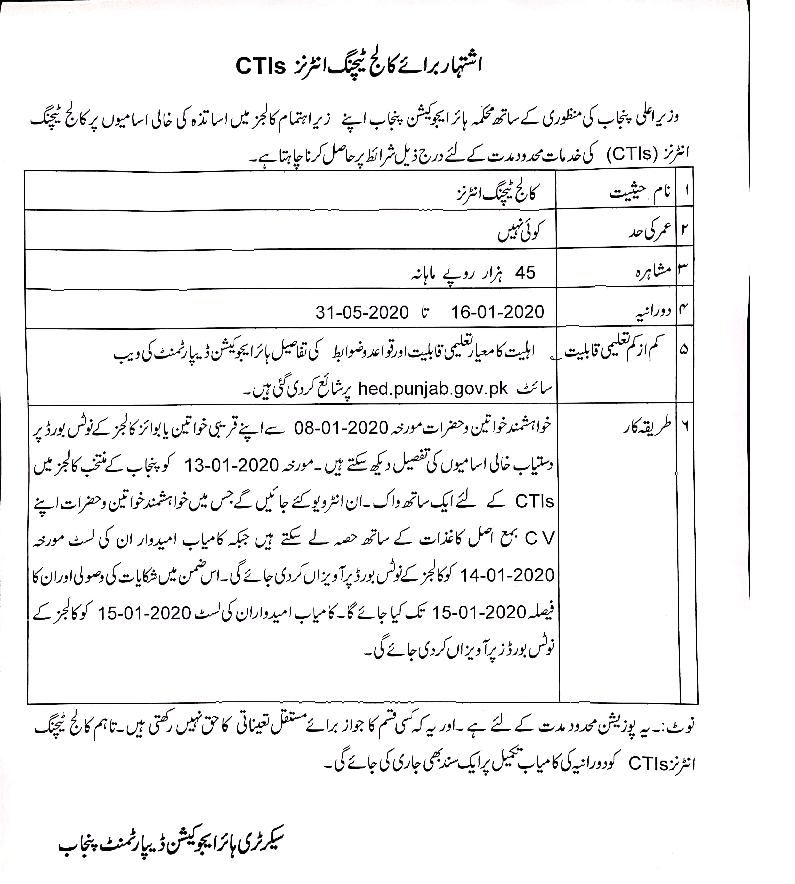 More Details
At present the department has announced 400 vacancies in the province of Punjab. You can also see more details regarding the following:
Selection Procedure
Total Number of Posts
Procedure of Calculation of Vacancies
Selection Committee
Qualification Marks Criteria
Subject Induction
Payment of Stipend
HEC Formula for Conversion of GPA into Percentage