Last Updated on March 28, 2020 by Galaxy World
Government of Khyber Pakhtunkhwa, Relief Rehabilitation & Settlement Department has issued Notification No. SO (Admn)RR&SD/2-49/2020 on 27-05-2020 in connection with Notification of Public Holidays upto 5th April throughout KPK Province. Detail is as under:
Public Holidays upto 5th April in KPK
In continuation to this department Notification Nos SO(Estt)RR&SD/3-5/2019 dated 23-03-2020 regarding Public Holidays, the provincial cabinet in its meeting held on 27th March 2020 has approved the extension of Public Holidays from 29th March 2020 (Sunday) till (Sunday) 5th April 2020.
The above orders shall not apply to essential services including, but not limited to, the following:
Health Department
Police
District Administration
Essential Secretariat Department as notified in this Department notification of even number dated 27-05-2020 in para-1(e).
Information & PRs Department
Local Government Department (including staff of TMAs, Development authorities including PDA and Water Supply & Sanitation Company.
First responders including Rescue -1122.
Special thanks to Mr. Ibrar Shah for sending the copy of the Notification of General Holidays upto 05-04-2020 throughout KPK Province.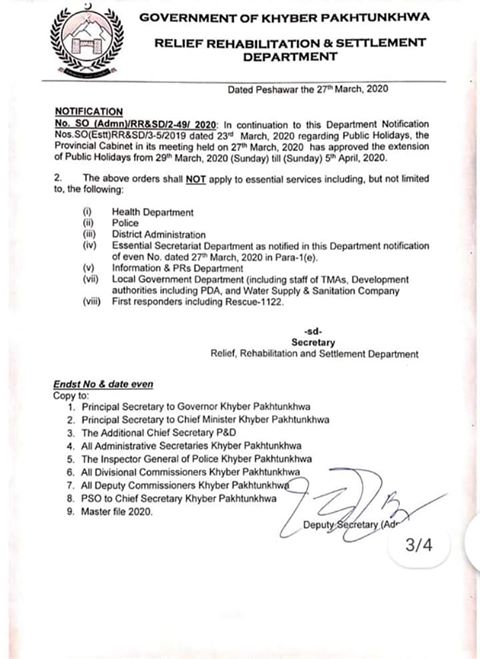 For the information of the Public I already shared the Notification of Public Holidays upto 28-03-2020 in the post of extension holidays in KPK Schools a few days ago. You can see the previous notification of holidays too there for information.