Last Updated on April 15, 2020 by Galaxy World
Allama Iqbal Open University Directorate of Admission & Mailing has issued Notification on 14-04-2020 in connection with Extension AIOU Admission Fee Date and Payment in Two Installments. The detail is as under:
Extension AIOU Admission Fee Date
In order to compensate the Fresh and Continuing Students of BS/BA/BED, AD & POSTGRADUATE Programs due to lockdown imposed by the Federal Government and minimizing many branches of Banks in connection with the wake of COVID-19. The Vice-Chancellor has decided to grant permission for further extension of fee submission date for FRESH & COUNTING STUDENTS of above-said programs without late fee charges up to 05.06.2020. University has also decided to facilitate its students to deposit fee in two installments as per given schedule:
Revised Schedule of Fee
Date of 1st Installment: June 05, 2020
And Date of 2nd Installment: July 17, 2020
It is, therefore, requested that Management of ABL, MCB, UBL, and FWBL may be conveyed to disseminate this information to all their fee collecting branches to accept the fee of fresh & continuing students of above-said programs with normal fee with immediate effect and up to 05.06.2020.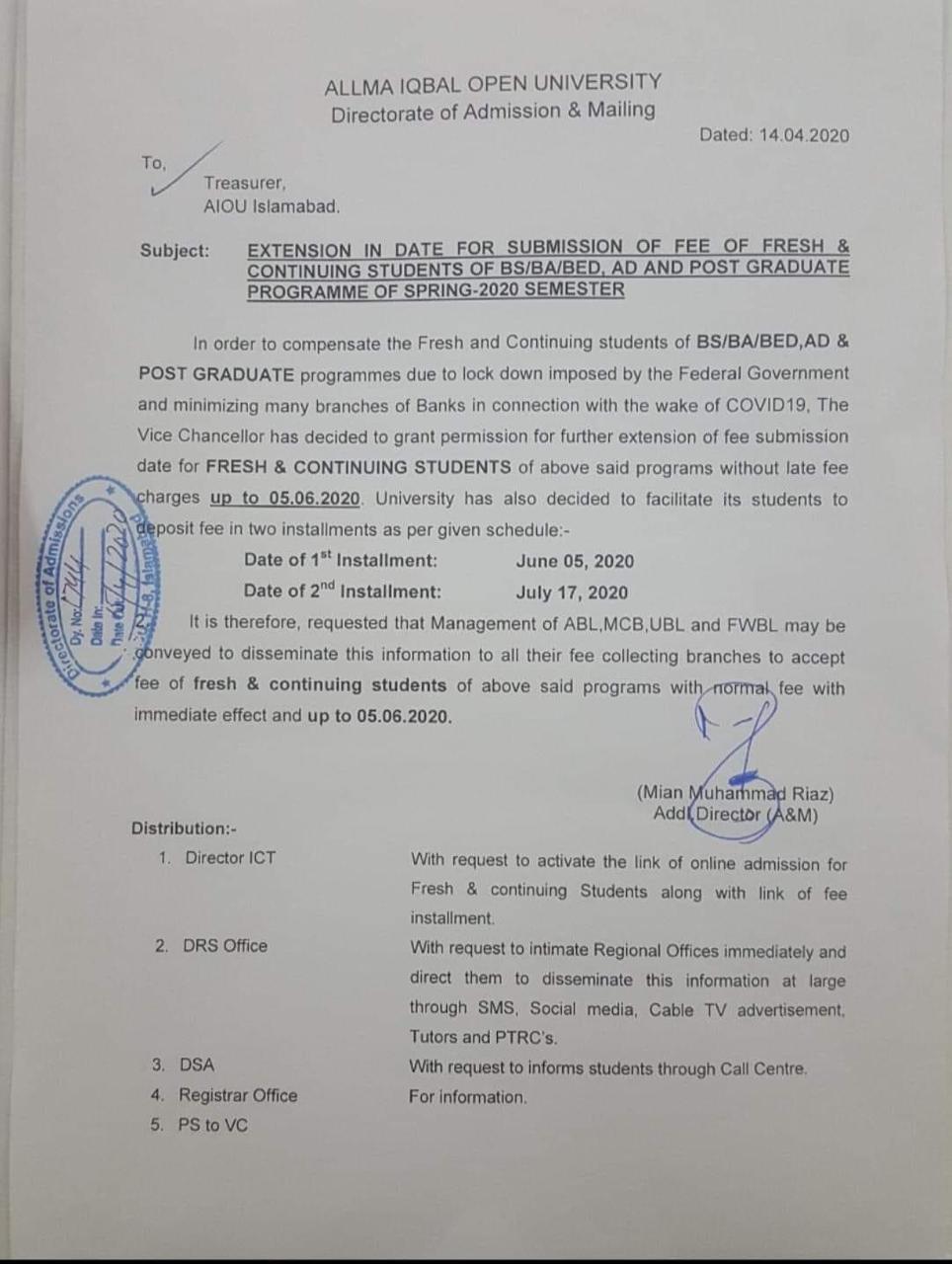 Directorate of Admission & Mailing has submitted this Notification to the Treasurer AIOU Islamabad. The summary of the said letter is that the Admission date for BA/ BS/ B.Ed/AD/ Postgraduate Allama Iqbal Open University has extended till 5th June 2020.
You may also like: AIOU Admission Spring 2020