Last Updated on October 30, 2021 by Galaxy World
Board of Intermediate & Secondary Education, Multan issued a press release on 22-04-2020 in connection with Press Release BISE Multan Remaining Board Papers / Online Roll Number Slips.  All officers Multan Board meeting held on 22nd April 2020 chaired by Chairperson Multan Board.  They discussed the arrangements of the remaining 9th class papers annual exam 2020, Intermediate Exams 2020 / in time checking/marking of papers.
Press Release BISE Multan Remaining Board Papers 2020
They will manage the same after the current lockdown and the revised schedule of examination 2020 by the controlling authority. Chairperson advised the Multan Education Board Officers (Especially Conduct and Secrecy Branch) to keep in touch with the concerned staff (Staff for Examination Centers and Paper Marking Staff). The purpose of the same is to conduct the concerned exams in time and paper marking.  As soon as the controlling authority issues the revised schedule of the board exams, they may not face any difficulty in conducting exams and publishing the result.
Keeping in view the current situation, they will issue online roll number slips to all candidates of class 9th and intermediate (HSSC) (private and regular candidates).  The candidates should make the best use of the lockdown and get the most possible benefit of the same.  They should prepare for their board exam papers sitting at home. The Board authorities will inform the students about the revised exam schedule 2020 as soon as the controlling authority issues it. The Board will inform the students through SMS, Print Media and Electronic Media. However, the students/teachers should visit the Board site to get the verified information.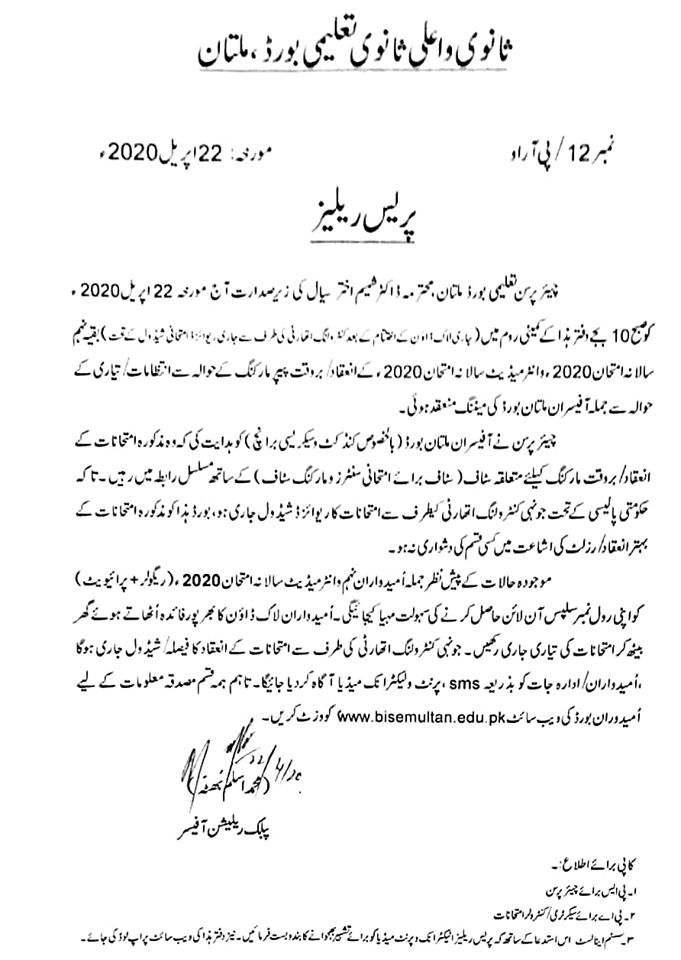 Students now should prepare for the coming board exams. They should always keep in touch with the real Board news on this website (Galaxy World). They should never belive in the bogus news/notifications the notorious persons spread on social media. Students should remember that they will have to go through the exams to sit in the next classes. In this regard, they have issued clarification BISE Multan Promotion of Students without Exams. So keep ready for the coming exams, sooner or later as the situation becomes better.