Government of Khyber Pakhtunkhwa, Relief Rehabilitation & Settlement Department has issued Notification on 15-05-2020 in connection with Opening Passenger Public Transport in KPK. The details are as under:
On the recommendations of the Provincial Taskforce on COVID-19, and pursuance of the emergency already declared under section 16(A)(1) of the National Disaster Management (Khyber Pakhtunkhwa) is pleased to order that the passenger public transport shall be opened in accordance with the following procedure:
The Divisional Commissioner through their Regional Transport Authorities, after due consultation with transporters on SOPs & re-fixed fares after reduction in Petroleum prices, will open intra-District & District transport in Districts of their jurisdiction through individual orders on routes as deemed appropriate by them:
In the case of District to District transport involving more than one Division, recommendations will be made to the provincial Transport Authority / Department for decision at that level.
This order is effective from Monday the 18th of May, 2020.
Explanation in Urdu
خیبر پختونخوا حکومت کا بڑا فیصلہ .عوامی سہولت کی خاطر پیر سے تمام پبلک ٹرانسپورٹ ایس او پیز کے تحت کھولنے کا فیصلہ،
کمشنرز،ریجنل ٹرانسپورٹ اتھارٹی ٹراسپورٹز کے ساتھ مل کر ایس او پیز تشکیل دیں گے، تیل کی نئی قیمتوں کے مطابق نظرثانی کرایہ وصول کیا جائے گا، کمشنر حالات کو دیکھتے ہوئے اپنے ڈویژن کے اندر انفرادی روٹ کھولنے کا فیصلہ کریں گے،
ایک ضلع کے اندرون یا ایک ضلع سے دوسرے ضلع کے روٹ کا فیصلہ بھی کمشنرز کریں گے۔ ایسے روٹ جو مختلف ڈویژنوں کی حدود میں ہوں ، انکے کھولنے کا فیصلہ صوبائی سطح پر ہوگا۔ ٹرانسپورٹ کھولنے کا فیصلہ وفاق سے مشاورت سے کیا ہے،
Special thanks to Mr. Ibrar Shah & Mr. Muhammad Jawad for sending a copy of the Notification of Opening Passenger Public Transport in KPK. (Sources Elementary & Secondary Education Government of Khyber Pakhtunkhwa).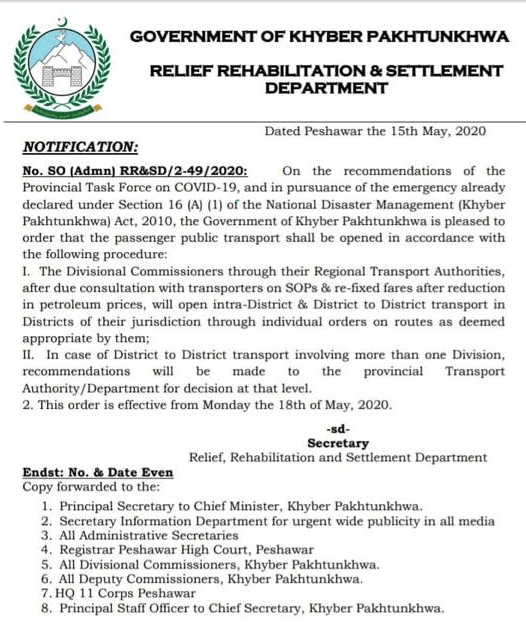 You May Alos Like: Notification of Public Holidays upto 31-05-2020 in KPK