Last Updated on August 10, 2021 by Galaxy World
Government of Gigit Baltistan, Gilgit Baltistan Secretariat Finance Department has issued Notification on 03-07-2020 in connection with Adhoc Relief Allowance 2020 @ 15% Government Employees GB. The details are as under:
Adhoc Relief Allowance 2020 @ 15% & 10% GB
The undersigned is directed to say that competent upon recommendation of the Gilgit-Baltistan and subsequent approval of the Finance Bill 2020-2021 by the Gilgit-Baltistan Assembly, the Governor Gilgit-Baltistan has been pleased to sanction an Ad-boc Relief Allowance-2020 to the civil Employees of Government of Gilgit-Baltistan including contract employees with effect from 1st July 2020, as per detail given below:-
BPS-17 & above @10% of the basic pay
BPS-1 to 16 @15% of the basic pay
The Governor Gilgit-Baltistan has further been pleased to enhance 15% monthly wages in favour of Contingent Paid Staff who are drawing their wages under Regular Budget Grant with effect from 1st July, 2020 as recommended by the Gilgit-Baltistan Cabinet and subsequent approval of Finance Bill 2020-2021 – by the Gilgit-Baltistan Assembly.
Special Thanks:
Mr. Saleem Raza
Mr. Ibrahim Mhd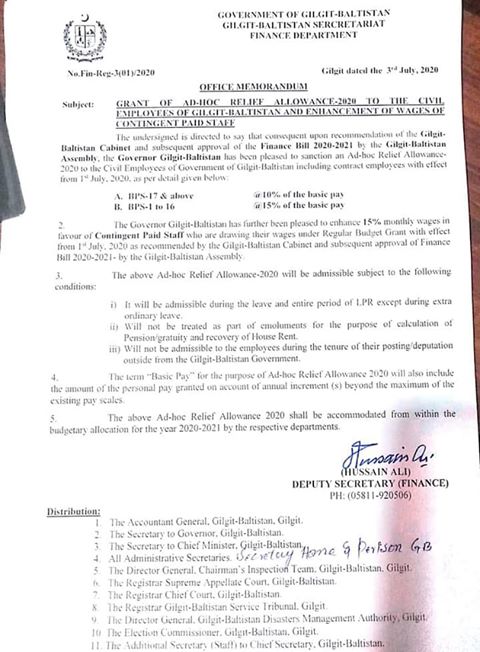 Congratulations to the Government employees of the province of Gilgit Baltistan. The employees of the GB are the luckiest ones who got the most benefit from the Budget 2020-21. The second one is the employees of Sindh and others faced the worst budget for them. GB Government already announced a 15% increase in Salaries in Budget Speech 2020-21.