Last Updated on August 10, 2021 by Galaxy World
Higher Education Commission has launched Prime Minister's Electric Wheelchair Scheme for University Students (Phase-II) 2020. For the information of students, the HEC distributed 206 wheelchairs in Phase-I under PM Scheme. The details are as under:
Prime Minister's Electric Wheelchair Scheme (Phase-II)
Under Prime Minister's Electric Wheelchair Scheme, Higher Education Commission invites applications from the Students having an ambulatory disability. The student enrolled in public sector universities and affiliated collages during Fall Semester 2020-21.
Eligibility Criteria
Electricity Wheelchairs will be distributed among students who:
Have physical and permanent ambulatory disability to such a degree that are unable to move from place to place without the aid of a wheelchair.
Are not able to cross curbs because of paralysis or loss of function legs
Are Registered for Spring/ Fall 2020 in HEC recognized public sector universities and affiliated colleges of all Provinces and AJ&K in Undergraduate, Postgraduate, MS/MPhil and Ph.D. programs.
Have a valid certificate of special person/ ambulatory disability from the relevant Competent Authority/ Government Institutions.
Not have received Electric Wheelchairs in Phase-I.
Have a valid disability of movement from one place to another.
How to Apply
Students who meet the eligibility criteria are to fill and submit the online application form on eportal.hec.gov. Pk/wheelchair by September 15, 2020.
Take a print of the application form, attach necessary documents, and submit in the office of respective Vice chancellor/Registrar/ designated person.
Universities will forward all eligible cases to HEC in one transaction by October 15, 2020, at the following address for the distribution of electric Wheelchairs on merit.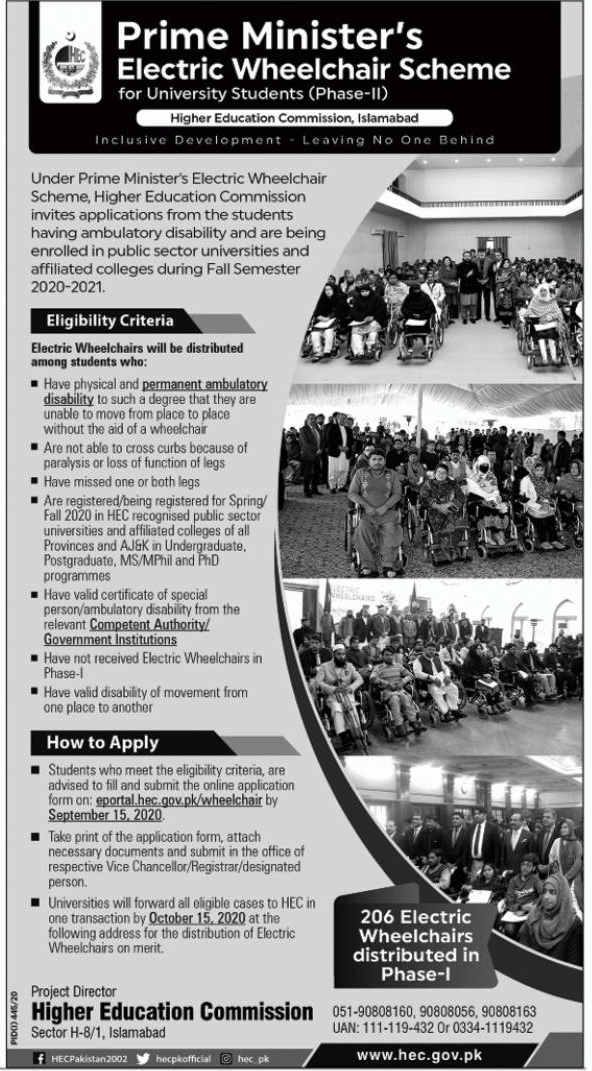 You may also like: AIOU Admission Open Autumn 2020