Last Updated on August 10, 2021 by Galaxy World
The University of Punjab has issued Notification on 07-11-2020 in connection with the COVID-19 Call of 50% of Administrative Staff.
Due to the prevailing situation of Pandemic COVID-19, the National Command & Control Authority (NCOC) in its meeting held on 2nd November 2020 has decided to call of the 50% administrative staff in the public and private office since 7th November 2020.
Therefore, all heads of Non-Teaching/Administrative Departments are requested to call the 50% staff from 9th November 2020 to attend the office. The remaining will work from home if so required. This may be implemented /followed in letter and spirit, immediately.
Before this, the NCOC, Islamabad has decided the implementation of Stage-2 MPIs in addition to Stage-I MPIs (to remain in force till 31st Jan 2020) in major cities as under:
Karachi
Lahore
Islamabad
Rawalpindi
Multan
Hyderabad
Gilgit
Muzaffarabad
Mirpur
Peshawar
Quetta
Gujranwala
Faisalabad
Bahawalpur
Abbottabad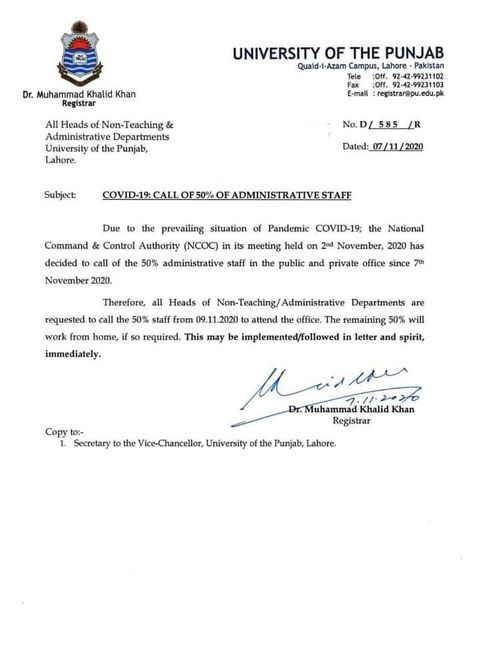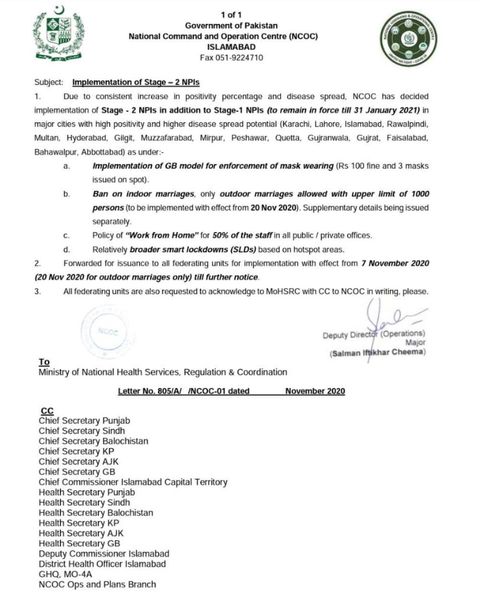 This Notification contains 4 number implementations as under:
Implementation of GB model for enforcement of mask-wearing
Ban on indoor marriages only outdoor marriages allowed with the upper limit of 1000 persons
The policy of work from home for 50 of the staff in all public/private offices
Relatively broader smart lockdown (SLDs) based on hotspot areas.