Last Updated on August 10, 2021 by Galaxy World
Government of Pakistan, Finance Division (Budget Wing) has issued a Notification on 16-11-2020 in connection with Opening of Light refreshment During Official Meetings. The details of the same are as under:
The undersigned directs to inform that a new detailed object head "A03990 Light Refreshment during Official Meetings" the Controller General of Accounts has opened in the Chart of Accounts by vide correction slip No 492 to meet the expenditure incurred on light refreshment during the official meetings. The following procedure the concerned one should observe/adopt to incur expenditure under this specific head of account:
The offices will restrict the expenditure up to Rs 50/- per head, provided that the attendance sheet of the meeting with name, designation, ministry, signature, etc. the chair will verify.
Prior permission of PAO Is mandatory.
No additional funds will be provided through TSG/Supplementary Grant during the Current Financial Year. However, PAO can meet the requirements of funds through re-appropriation within the available allocated budget.
Special thanks to Mr. Tanweer Ahmad who sent the copy of the OM of Opening of Light refreshment During Official Meetings.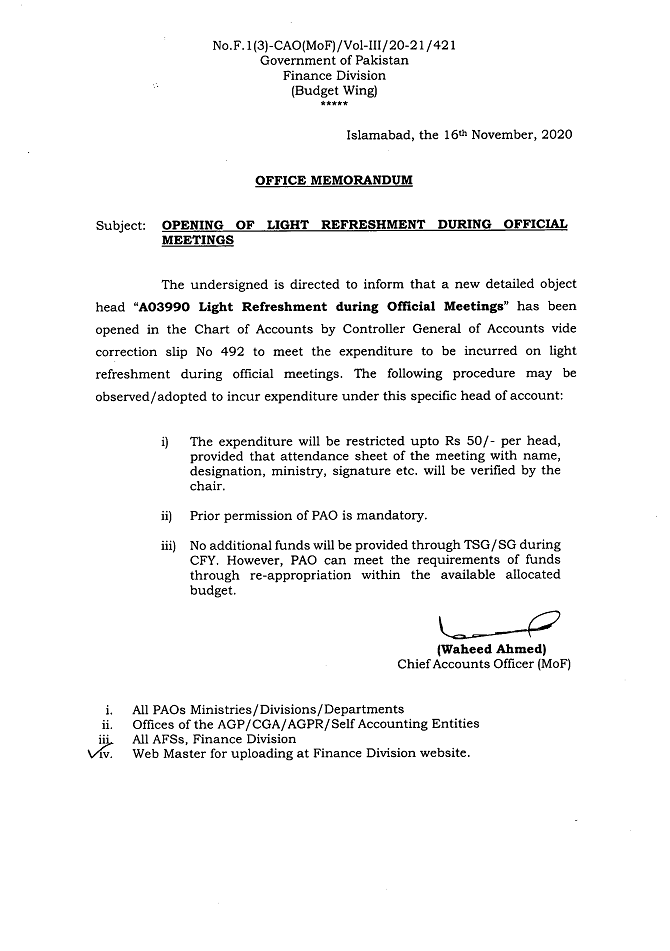 The Finance Division has sent a copy of this Notification to all the concerned offices for their compliance. It has also sent a copy to all PAOs.
You may also like: Schedule of SSC & HSSC Annual Exam 2021 Punjab