Last Updated on August 10, 2021 by Galaxy World
Government of the Punjab, Law & Parliamentary Affairs Department has issued a letter on 18-11-2020 in connection with the Award of BPS-17 to Librarian Working in Other Than HED. This department has sent this letter to Secretary Finance Department. The details of the same are as under:
Award of BPS-17 to Librarian Working in Other Than HED
I am directed to refer to your letter No. FD.PC.1-1/77(Pt. V)-22145/191, dated 15.10.2020 on the subject and to state that under Punjab Civil Servants Pay Revision Rules, 1977, the Librarian in a College is appointed in BS-16, however, he gets placed in BS-17, if a master's degree in Library Science is acquired by him. Contrarily, the post of Librarian, in order Departments, in BS-16 and the incumbents are not placed in BS-17, even on acquiring a Master's Degree. This is anomalous and discriminatory.
Advice
2. It is advised that the discriminatory rules may be amended suitably to bring the posts with an equal qualification at par, in the matter of pay scales. It would be just that In view of the judgment of Hon'ble Apex Court in CAs Nos. 1114 to 1116 of 2006, all the librarians of different departments, with equal, qualification be brought at par from the date of acquiring that qualification i.e. M.Sc Library Science and requisite rules are framed in view of the direction of Hon'ble Court, passed in W.P. No. 30846 of 2016 (Copies enclosed).
3. Reliance is also placed on 2009 SCMR 1 which edifies that when a principal is settled by Hon'ble Apex Court during any lis, the relief, emanating from such dictum, be provided to the similarly placed non-litigants also.   
Special thanks to Mr. Sultan Gondal for sending the copy of the letter of Award of BPS-17 to the Librarian Working in Other Than Higher Education Department Punjab.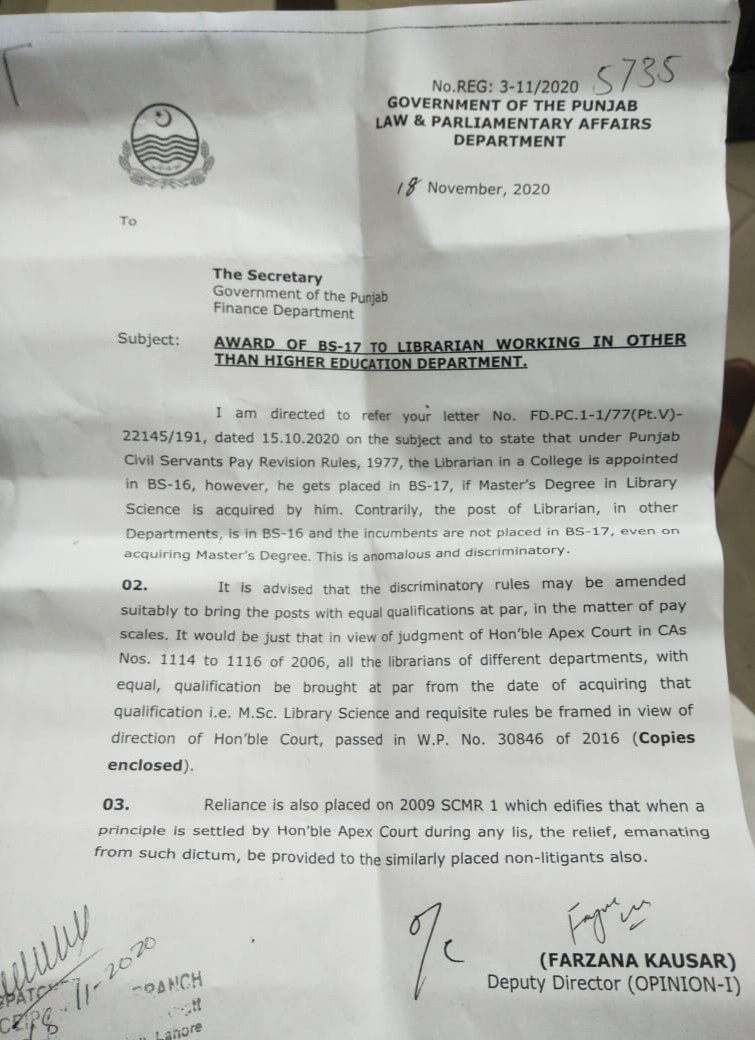 You may also like: Increase in Salary December 2020 Annual Increment