Last Updated on August 6, 2021 by Galaxy World
I am sharing here the Latest Updates of Opening of Schools on 18th January 2021 as per the tweet of Shafqat Mahmood (Education Minister). The details of the re-opening of schools, colleges, and universities are as under:
Latest Updates of Opening of Schools on 18th January 2021
In the earlier meeting of the education ministers, they decided to open the education institutions with effect from 18-01-2021. In the said meeting they planned to review the decision on 14th or 15th Jan 2021. To take the review of the situation of the COVID-19 and re-open the education institution the education ministers meeting, will hold on 15th January 2021.
Final Decision as on 15-01-2021
Class 9th, 10th, 11th & 12th will start coming to schools wef 18-01-2021
Class 1st to 8th & University classes will start to come wef 01-01-2021
The committee will decide to open 1 to 8th and Universities keeping in view every area COVID-19 situation. If there is any dangerous situation then the institutions of higher classes and one to eight will remain close.
Tweet of Mr. Shafqat Mahmood Federal Education Minister
Education and Health Ministers meeting again tomorrow to review the coronavirus situation before students start coming to school. While I desperately want education to continue the final decision will be on health grounds. Students' well-being will always be a priority.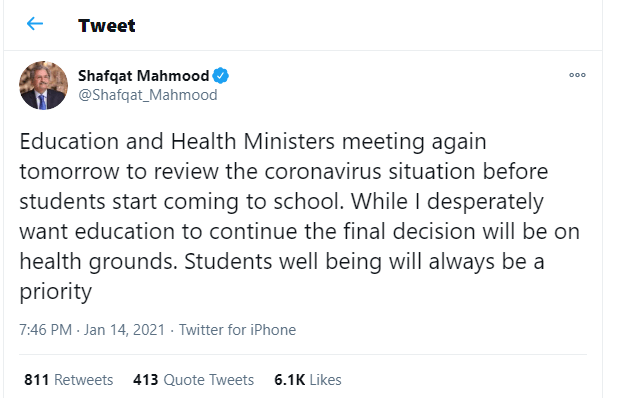 There are many chances that the SSC and HSSC classes will open on 18 Jan as per the announcement of the opening of educational institutions by the Government. I shall share the updates of the decision of the committee on 15-01-2021 (In Sha Allah). I hope they will decide in favor of the students and classes will start. There will be no more holidays.